SIA preferred airline amongst Singaporeans for both short and long haul flights
The pandemic has hit the global economy hard, but no industry was hit harder than the travel industry. With planes grounded for the foreseeable future, Singapore Airlines launched it's 'Inside Singapore Airlines' experience. Latest YouGov data reveals what Singaporeans think about their national carrier and their latest offering of unique experiences.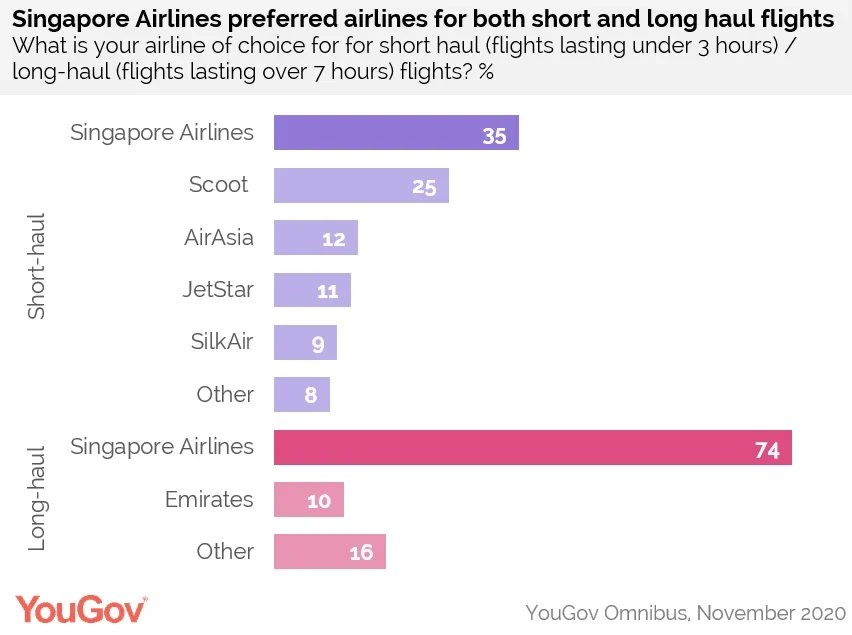 Whether short-haul or long-haul flights, Singapore Airline is the preferred airlines amongst Singaporeans. For short-haul flights (flights under 3 hours), over a third (35%) picked Singapore Airlines as their preferred airline, followed by Singapore Airlines subsidiary Scoot (25%), AirAsia (12%), and JetStar (11%). When it comes to long-haul flights (flights over 7 hours), Singapore Airlines is the clear winner, with three-quarters (74%) saying it is their top choice.
As an attempt to boost grounded passenger business, Singapore Airline unveiled plans in September this year to launch a 'flight to nowhere' with trips that start and end at the same airport. Though the plan was eventually scrapped after criticism about the environment impact, one in seven (15%) of Singaporeans are interested in a 'flight to nowhere'. Frequent flyers (which we termed by those who took more than five flights last year) are most likely to be interested in a flight to nowhere, compared to those who took zero flights last year (21% vs. 8%). High-income earners (household income of more than SGD 8,000) are also much more likely to be keen on a flight without a destination than low-income earners (household income of less than SGD 3,999).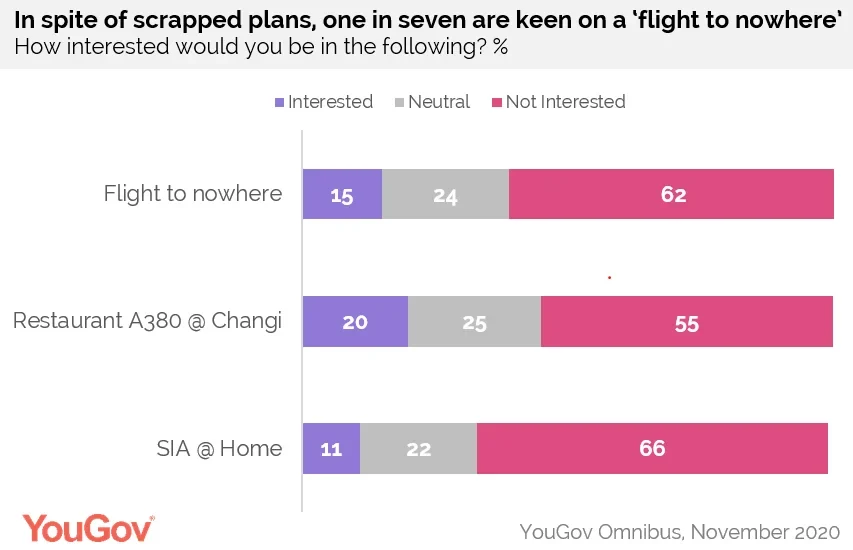 In October 2020, Singapore Airlines announced the launch of Restaurant A380 @ Changi – a dining experience aboard a parked A380 plane at Changi Airport, with tickets selling out in thirty minutes. Although the experience was limited to two weekends and there has not been an announcement for a third sitting, one in five (20%) Singaporeans remain interested in the experience. A quarter (25%) have no opinion, and a third (33%) are uninterested.
Alongside Restaurant A380 @ Changi, Singapore Airlines also launched SIA @ Home – where business class or first class meals are delivered to the home, alongside tableware and flight amenities. Compared to the restaurant, less Singaporeans are keen on dining on airplane fare at home – only one in ten (11%) are interested in this experience. However, amongst those who profess to 'love' / 'like' airplane food (35% of the population) interest in this experience jumps to over a quarter (27%).
Rounding off the 'Inside Singapore Airlines' experience is a behind-the-scenes tour of the training centre, including various add-ons. Of all the add-on experience, the flight simulator is the most popular, with half (48%) interested in it. The second most popular experience is the training centre tour (33%), followed by the junior pilot experience (32%), grooming workshop (22%), wine tasting and junior cabin crew experience (both 20%). A third (33%) of Singaporeans have no interest in any of the experiences.
***Results based on 1,053 Singaporeans surveyed on YouGov Omnibus