Two weeks before launch of Jewel, the airport's brand has seen an increase in buzz
Singaporeans are already hearing good things about Changi Airport Group's launch of its Jewel destination, latest YouGov Plan & Track data finds.
Jewel is set to launch on 17th April and is being positioned as a "go-to" Singaporean destination. Located at Changi Airport, it will house over 280 shops, a 14,000sqm indoor canopy and the world's largest indoor waterfall. Though Jewel is still two weeks away from the launch, Changi's public perception has already received a boost.
The airport group's Changi's Buzz score, which measures whether people have heard something positive about the brand in the past two weeks, started the year at 25.0 but now sits at 35.8 – a jump of +10.8 points. It shows a steady climb throughout, indicating that Singaporeans have been increasingly speaking about the brand.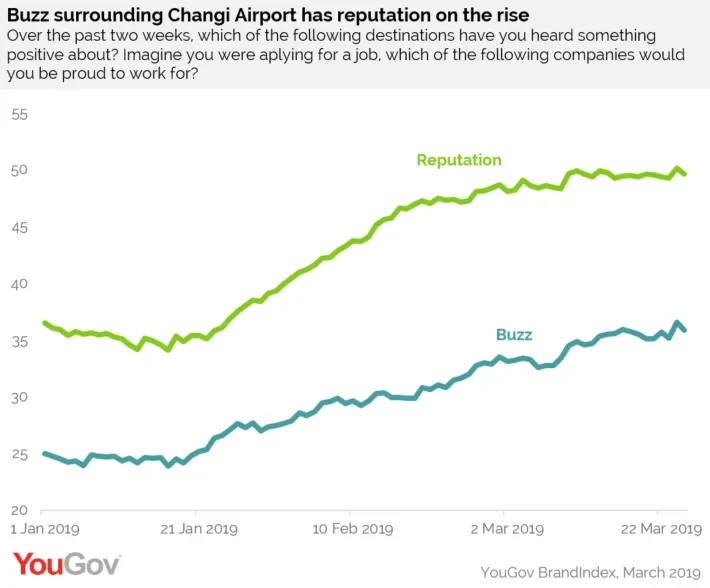 Not only has Jewel gotten people talking, it also has also made people say they are more likely to want to work at Changi. The airport group's Reputation score, which measures whether people would be proud to work for the brand, started the year at 36.5, but has since jumped +13.1 points and currently sits at 49.6.
Changi has also seen an increase in the number of people wanting to visit it soon, as reflected in its Purchase Intent score. This has risen from 7.3 to 18.9, a jump of +11.6 points. Looking at the people who intend to visit Changi within the next 30 days, YouGov Profiles reveals they tend to be male, over the age of 45, and intend to travel abroad in the next 12 months.
Ervin Ha, YouGov APAC Head of Data Products commented: "It appears that Singaporeans are excited for the launch of Jewel at Changi, which is reflected in the overall spike in its brand metrics. It's not easy to generate buzz around an airport brand, but Changi has managed to do so, while boosting its reputation as an employer at the same time."