Opinions on internet regulation differ amongst gender and age groups
As Singapore looks to pass a new bill to combat online fake news, new analysis from YouGov shows that more than two in five (44%) of Singaporeans believe there should either be a bit more (31%) or a lot more (13%) internet regulation.
The data from YouGov Plan & Track reveals that one in six (17%) think there should be a bit less (12%) or much less (5%) regulation, while one in three (36%) reckon the current regulation is about right. The remaining 3% don't know.
The new legislation will give the Government the power to hold online news sources and platforms accountable if they spread deliberate online falsehood. YouGov's research asked respondents whether there should be more regulation (higher safety at the expense of freedom), less regulation (freedom preserved at the expense of safety) or whether the current set-up is about right.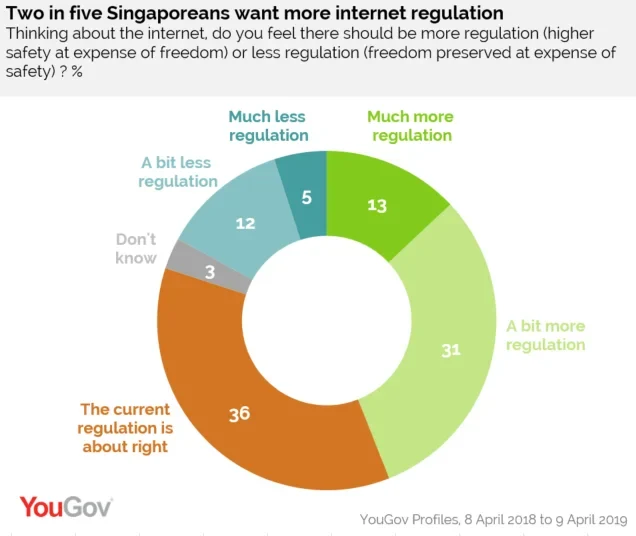 However, stances on this issue vary between age groups. While a quarter (25%) of Singaporeans aged 18 to 24 want more regulation, this jumps to half (51%) amongst those aged 55 and above. The data also shows that women are also more likely than men to want more internet regulation (51% vs. 37%).
Ervin Ha, YouGov APAC Head of Data Products commented: "With all the discussion going on the new anti-fake news bill, our data shows how Singaporeans feel about the balance between their personal liberties and greater internet safety. While many favour tighter regulation, public opinion is split."
***Results based on 2,289 Singaporeans surveyed on YouGov Profiles