McDonald's tops YouGov's 2023 QSR Rankings in Singapore. The American hamburger restaurant's Consideration score of 50.2 places it well ahead of other popular quick-service restaurants in the market.
YouGov's APAC QSR Rankings 2023 report uncovers the top 10 QSR brands that consumers in each market are more likely to consider. Brands are ranked based on YouGov BrandIndex Consideration score which asks consumers, "When you are in the market next to eat/drink at a Casual Dining and Beverage outlet, from which of the following brands would you consider?"
Singapore-based Kopitiam ranked second (with a score of 30.4), followed by KFC in third (26.5) and Subway in fourth (26.0)
After Kopitiam, another domestic brand- Ya Kun Kaya Toast, featured in the list, rounding off the top five in Singapore (23.3).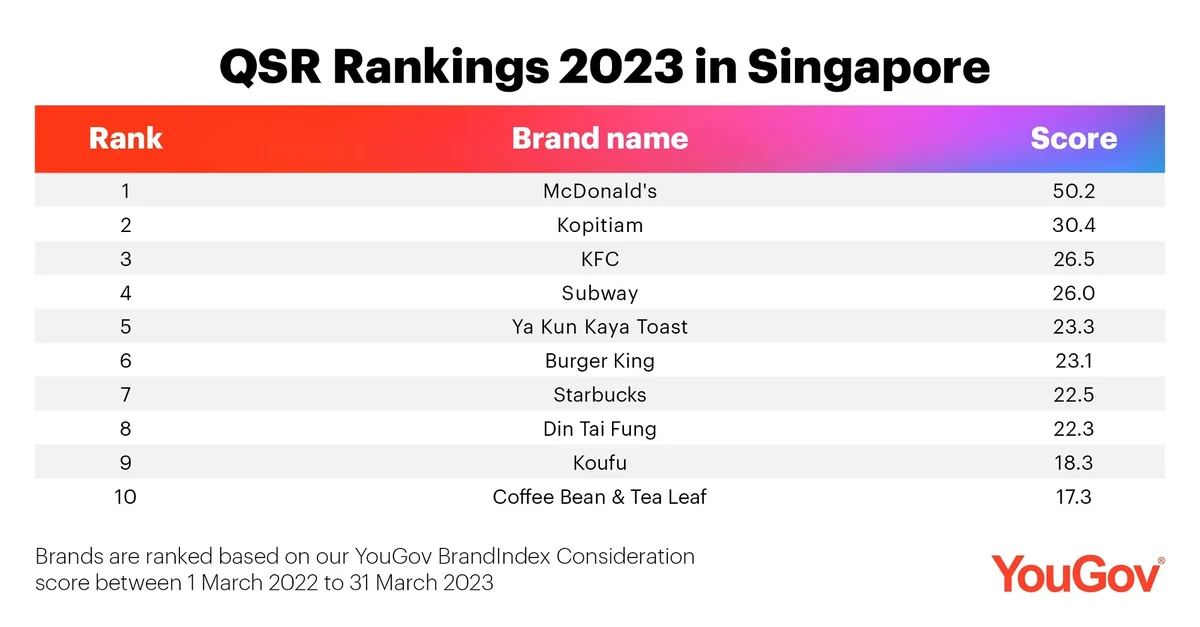 Many American brands populated the rankings this year, such as Burger King (23.1), Starbucks (22.5), and Coffee Bean & Tea Leaf (17.3).
The eighth spot was taken by Taiwanese dumpling and noodle restaurant Din Tai Fung (22.3), followed by Singaporean food and beverage company- Koufu (18.3).
Want to see which QSR brands are among the top 10 in other APAC markets this year? Download the full report here.
Methodology: YouGov APAC QSR Rankings 2023 were compiled using data from YouGov BrandIndex. Every brand's performance is tracked daily against a range of metrics.
In this report, the brands are ranked according to the Brand Consideration score – which is determined by asking consumers "When you are in the market next to eat/drink at a Casual Dining and Beverage outlet, from which of the following brands would you consider?" We also added an analysis for each market based on YouGov Surveys. The report involves 7 APAC markets including Australia, China, Hong Kong, Indonesia, Malaysia, Singapore, and Thailand.
YouGov Surveys across all 7 markets were fielded in the period of March 16th – March 30th, 2023. The YouGov panel provides a naturally accurate and representative view of the population. Data is adjusted using a mild weighting team using interlocking demographic characteristics—a methodology considered advanced in the market research space.