Following news of restructuring, consumers are buzzing with negative comments
Early this month, StarHub announced the retrechment of 300 employees, as part of a SGD25million restructuring exercise. Though StarHub remains the second largest telecommunications company in the the country, it cited fierce competition for initiating its 'operational efficiency programme'.
With three major telcos serving Singapore's five million strong population (and talks of a fourth entering later this year), the market is increasingly saturated.

The latest news from StarHub saw its Buzz score – which measures whether someone has heard something about the brand, and if so, if it was positive or negative – falling to zero.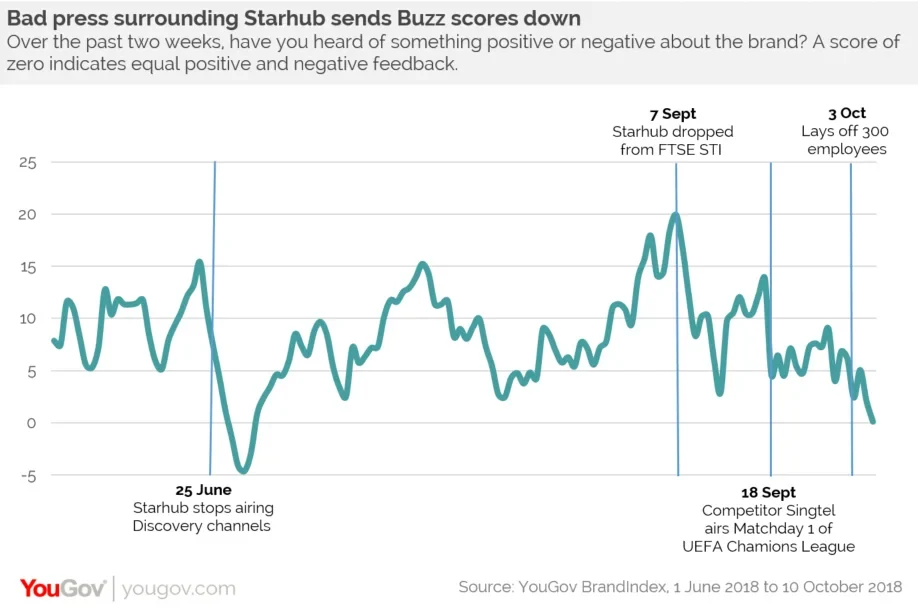 However, it isn't the first time StarHub's Buzz score has dropped this year. The company started Q3 on a decline, with a score of +7. The downward trend was a result of the announcement on 25 June that, after a decade-long partnership, the seven channels under Discovery Networks would be discontinued. Within a month of this, StarHub's Buzz score fell to an all-time low of -5. In all the time YouGov has tracked StarHub, this was the only time this metric has entered negative territory.
Though the company's Buzz score regained its positive standing, it saw another big drop two months later. On 7 September, the FTSE Straits Times Index announced that it would be dropping StarHub from it's list. Subsequently, it's score fell from a +20 to +3 in just two weeks.
As well as falling after corporate news, StarHub's Buzz scores have declined following poor customer experiences. This can be seen with the low scores leading up to this season's UEFA Champions League when the media reported on the company's difficulty in securing broadcasting rights. On 18 September, when competitor Singtel airred Matchday 1, scores fell from +14 to +5 in 24 hours. StarHub's Current Customer score, which measures how many consumers suscribed to the telco provider, fell by five points.
Ervin Ha, Head of Data Products commented: "In Singapore's competitive telco landscape, consumers are sure to pay attention to a major player like StarHub. From it's content availability, to corporate announcements, people are quick to react and chat about the brand; particularly when there is an impact on their customer experience."
Image Source: StarHub