Why it might be in QSR brands best interest to start providing more plant-based options
With the Vegan movement growing steadily in the West, YouGov looks at whether it is time for brands in Singapore to start paying attention to plant-based options.
Earlier this year, fast-food chain Burger King added the 'Impossible Whopper' to is menu, and rolled it out across the United States. Around the same time, KFC debuted its first ever Vegan burger in the UK. The addition of these plant-based menu items was widely covered by the media, marking a monumental move for companies that primarily catered to meat-eaters for decades. Should QSR brands in Singapore begin this shift, and would it beneficial for both brands and consumers?
YouGov Profiles reveals that two in five (39%) of Singaporeans are currently on a flexitarian diet -- a style of eating that encourages mostly plant-based foods while allowing meat and other animal products in moderation. A similar amount (42%) consider themselves meat-eaters. Over one in twenty (7%) are either a Vegetarian or Vegan diet. Vegetarians or Vegans are most likely to be aged 35 to 44 with almost three in ten (28%) eating this way, which is significantly higher than the proportion of 35 to 44 year olds (19%) in the population. Those aged 55 and above are the least likely to adopt a plant-based diet, with only a quarter (24%) eating this way, significant lower than a third (33%) that make up the population.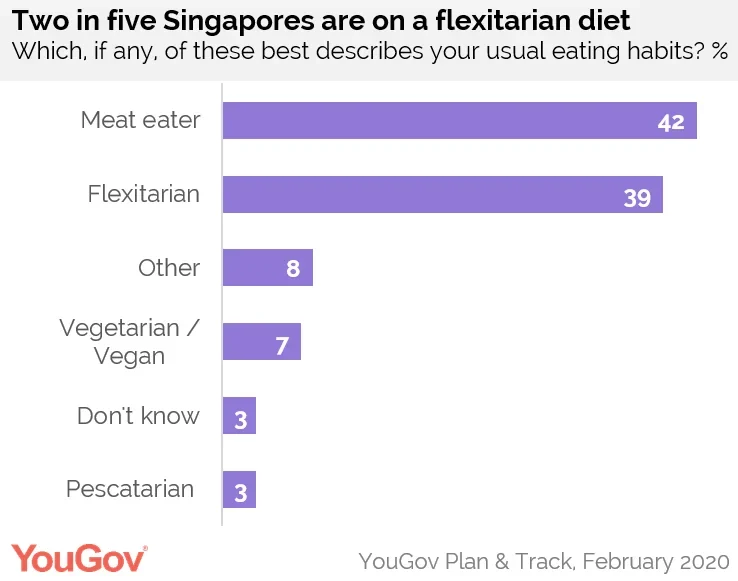 The biggest reason for Singaporeans in considering a plant-based diet is for health reasons (46%). This is followed by concerns over health risks in meat / fish production (37%), concerns over healthiness of processed meat (32%) and for environmental reasons (24%). However, it is unlikely that most Singaporeans would completely adopt a Vegetarian / Vegan diet. When asked the likelihood of becoming a Vegetarian / Vegan in the next twelve months, only one in seven (14%) said it was likely. Eight in ten (81%) found it unlikely.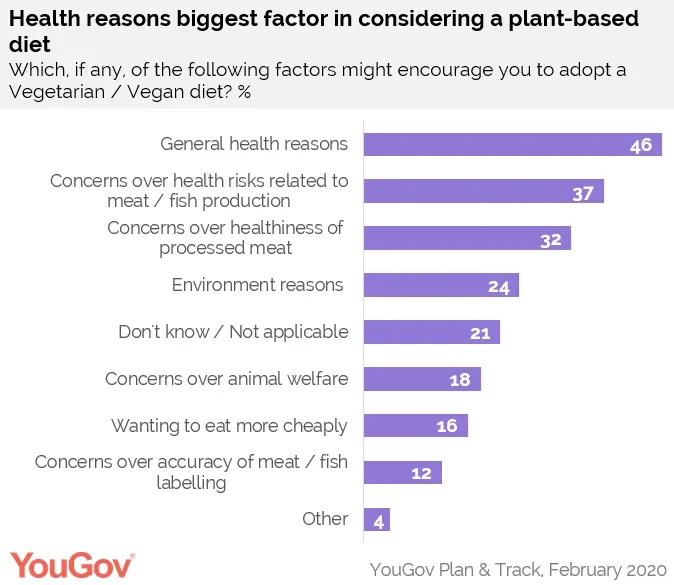 However, why should fast-food chains care about catering to Vegetarians / Vegans? One reason would be that they are the most likely to eat out. 8% of Vegetarians / Vegans eat out more than once a day, which is double the amount of the general population who do (4%). They are also much more likely to consume fast-food. One in ten (10%) visit a fast-food chain once a day, compared to only 4% of the general population.
Looking at three big fast-food chains currently in Singapore – McDonald's, Burger King and KFC, and their Current Customer score on YouGov BrandIndex, which tracks how many people have been purchasing from these brands, we can see that these scores have remained constant. This suggests that over the past four years, all three QSR brands have failed to grow their current customer base in Singapore. Even McDonald's, a brand ubiquitous with fast-food, which enjoys high brand awareness scores, (currently standing at +92.4) has failed to gain more customers. Although most people are aware of the brand, not everyone is buying from it.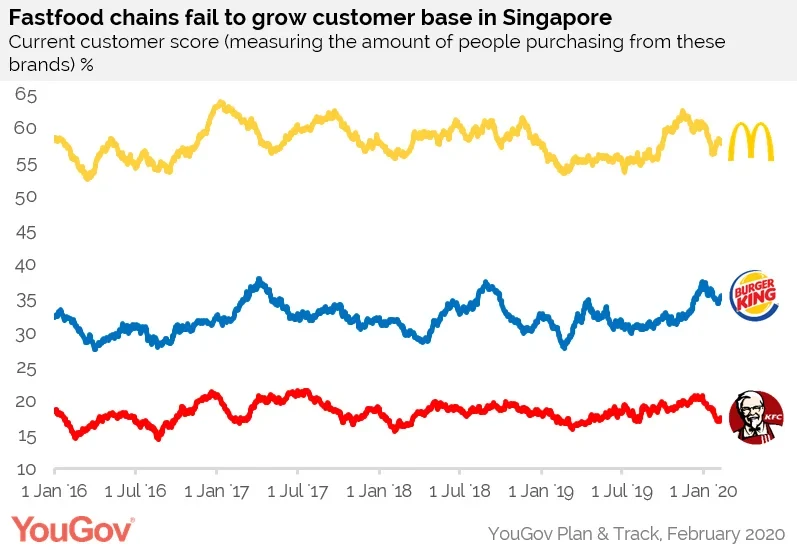 By not providing plant-based options to Singaporean consumers, these three big QSR brands are missing out on serving Vegetarians / Vegans. While over half (57%) of the population have consumed McDonald's in the past month, only a third (32%) of Vegetarians / Vegans can say the same. Similarly, while a third (33%) of Singaporeans have eaten at KFC in the past month, this is double the amount of Vegetarians / Vegans (16%).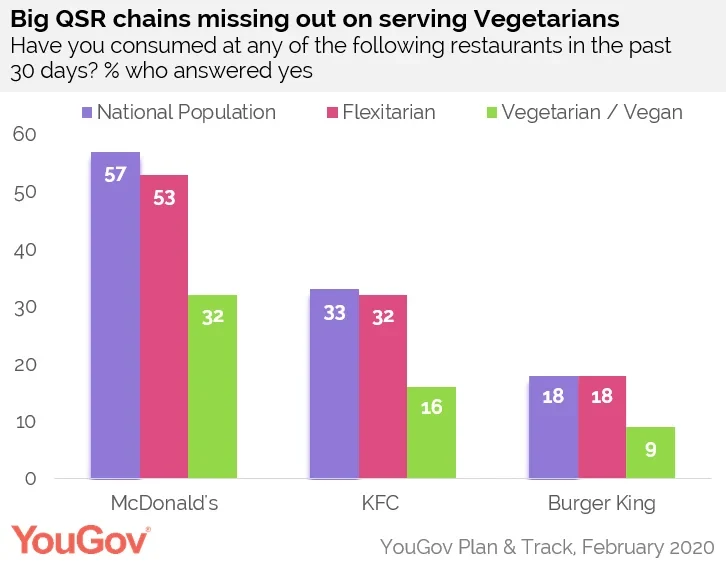 While the big QSR brands might not be providing plant-based options, a few fast-food chains have won over Singaporean herbivores. Singaporean owned Thai food chain Thai Express is a popular option for Vegetarians / Vegans, who are three times more likely to have dined there in the past month than the general population (9% vs. 3%). Other QSR brands that have won over Vegetarians / Vegans are Canadian Pizza, Manhattan Fish Market, Pastamania and Old Town White Coffee.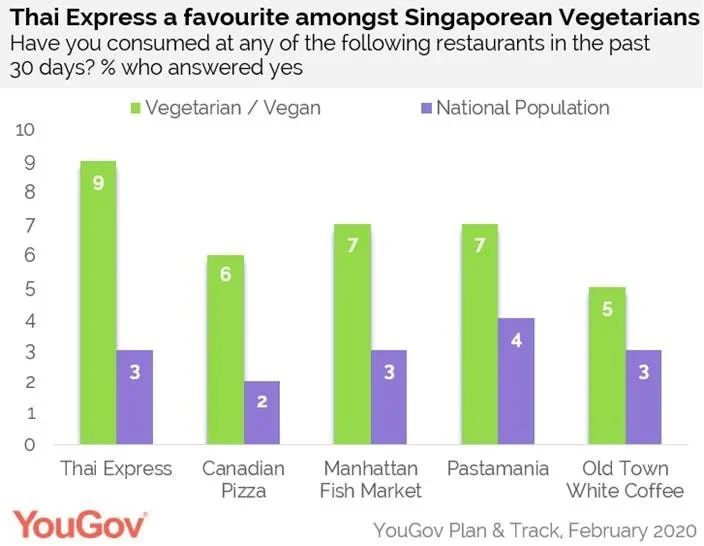 As Singaporeans grow more health conscious, and with a significant amount unhappy with their weight, a flexitarian diet might continue to gain popularity. For fast-food chains looking to revamp their menus, the data suggests that this could be time to incorporate more plant-based items. While it is unlikely that most Singaporeans will move to a purely plant-based diet in the near future, it is clear that it is time for QSR brands to step-up and cater to this growing segment of the market.