Indonesian ride-hailing app GOJEK has enjoyed a healthy rise in brand perception since entering the Singaporean market, the latest data from YouGov BrandIndex shows.
GOJEK announced the beta launch of its app on 29 November 2018 and while only a limited number of people were able to use the app, many Singaporeans had already heard positive things about it. GOJEK's Buzz scores – which measures whether people have heard anything positive or negative about the brand – was already at a healthy score of +15.9 on launch day. By the time that app was rolled out island-wide on 1 January 2019, its score had jumped to +28.3 – a rise of +12.4 points. However, since it announced it had raised over USD1bn in funding on 31 January 2019, there's been a less media exposure around the brand and its Buzz scores have begun to drop off.
However, Buzz isn't the only metric that GOJEK has fared well in. Singaporean consumers are also likely to recommend the brand to friends and family. YouGov's Recommend score was at +5.6 at the time of the beta launch, but rose to +21.7 by the time the app was fully rolled out.
Singaporean consumers' likelihood to recommend the brand could be linked to the fact that they think GOJEK is good value for money. Its Value score was +4.4 at beta launch, but within a month rose to +16.4 – a 12-point increase. Since then, the brand's Value score has remained relatively constant.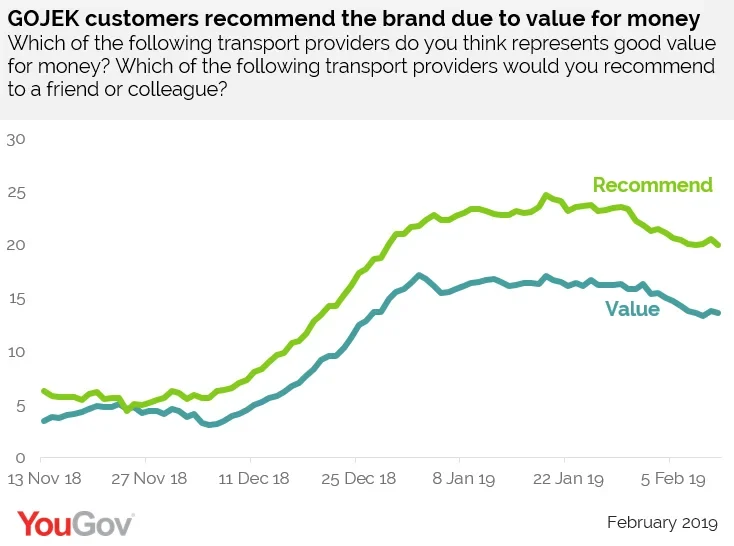 While some measures have plateaued, one that has continued to increase is its Current Customer score. YouGov asks people if they have used GOJEK in the past month, and the data shows a steep rise. Starting with a score of +1.0 during beta launch, its Current Customer score rose to +11.4 once the app was fully rolled-out. It currently stands at +22.3, and shows no signs of falling.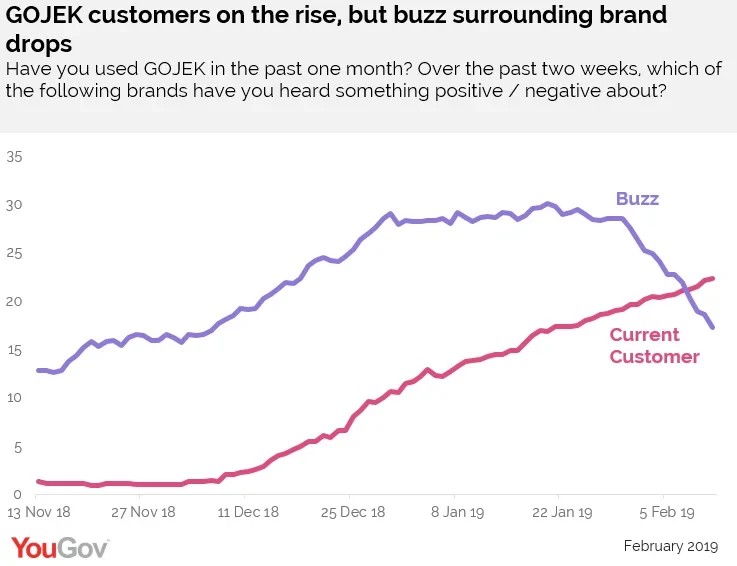 Ervin Ha, YouGov Head of Data Products commented: "GOJEK's entrance to the Singapore market and its brand health performance since have been impressive. It enjoyed good buzz even before it fully entered the market. We can also see that Singaporean consumers are highly likely to recommend the brand and believe it is value for money. It'll be interesting to monitor how the brand continues to fare as competition heats up in the ride-hailing market".