Majority believe that BNPL services encourage overspending
A new payment option is on the rise, allowing shoppers the ability to take home their items immediately and pay for it later. YouGov's latest survey asks Singaporeans what they think of 'buy now, pay later' (BNPL) services.
BNPL services only recently came onto the scene, but already accounted for 2.1% of global e-commerce in 2020 according to a report. The service allows customers to pay for their purchases in instalments, without the use of a credit card and at a 0% interest rate. Three in five (61%) Singaporeans have heard of BNPL services, and amongst those aged 18 to 34, this jumps to seven in ten (70%).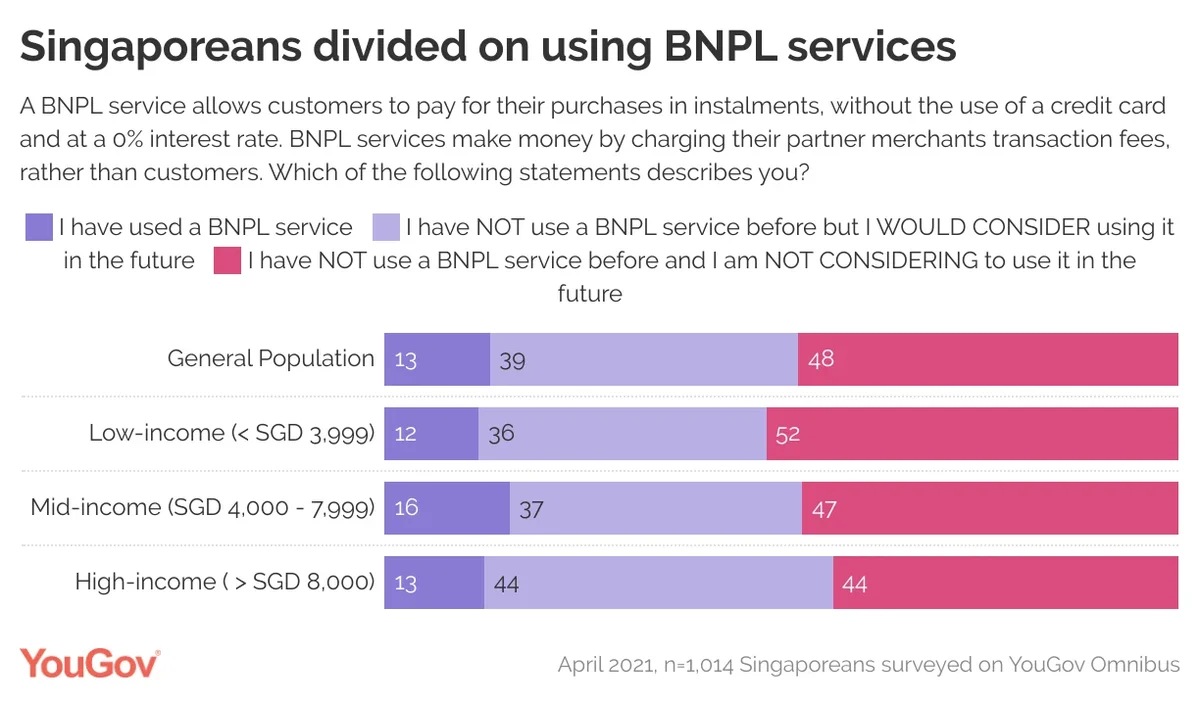 About one in eight (13%) have used a BNPL service before. Those aged 35 to 44 are the most likely to have paid for something with BNPL, with one in five (19%) having done so. Almost two in five (38%) have not used BNPL, but would consider using it the future and the remaining half (49%) have not used BNPL nor will consider using it in the future. Low income Singaporeans (monthly household income of less than SGD 4,000) are less keen on considering using BNPL services than high income Singaporeans (monthly household income of more than SGD 8,000) (52% vs. 44%).
In the event of wanting to buy a big-ticket item but not having the cash up-front, the most popular option selected was to pay for it with a credit card (34%). One in twenty (5%) would take a small loan from the bank, and the same amount would choose to borrow from family and friends. However, over half (54%) say they will only buy things when they can afford to pay for it with cash up-front. This is something echoed particularly by low-income Singaporeans, with three in five (59%) selecting this option.
While half (52%) of Singaporeans agree that BNPL services are useful for those who don't want to use a credit card, two in five (42%) remain sceptical of this payment option. Seven in ten (70%) also say that BNPL encourages overspending.
***Results based on 1,014 Singaporeans surveyed on YouGov Omnibus