YouGov's annual BrandIndex Buzz ranking is dominated by Singaporean brands, with national carrier Singapore Airlines taking the top spot for the fourth year in the row.
YouGov BrandIndex measures the public's perception of brands on a daily basis across a range of measures. The annual rankings are compiled using Buzz scores from across all 52 weeks of last year. Buzz scores measure whether people have heard anything good or bad about a brand during the previous two weeks.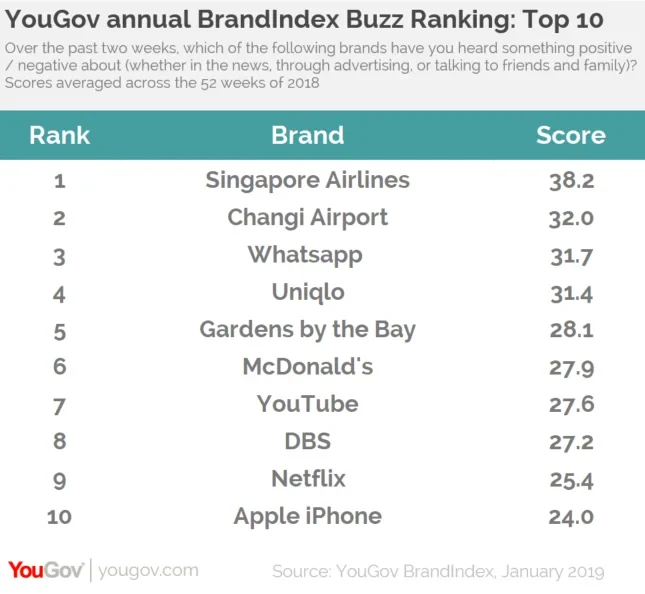 Singaporean brands have a strong presence in the top ten. Changi Airport comes in second place (32.0), Gardens by the Bay comes in fifth (28.1) and banking instution DBS comes in eighth (27.2).
Digital brands also make up a significant proportion of the list. Instant messaging platform Whastapp in third (31.7), video sharing platform YouTube in seventh (27.6), subscription-video-on-demand service Netflix in ninth (25.4), and Apple iPhone in tenth (24.0).
The list is completed by Japanese fashion retailer Uniqlo in fourth place (31.4) and quick service restaurant McDonald's in sixth (27.9).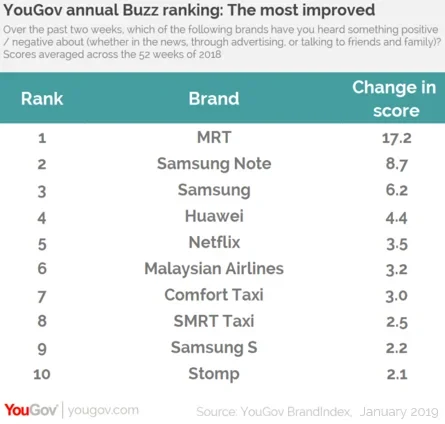 YouGov also reveals which brands have the most improved Buzz score. Multi modal transport operator SMRT comes up top, (a rise of 17.2 points), ahead of smartphone brand Samsung Note (up 8.7 points). The third most improved brand was South Korean smartphone manufacturer Samsung (up 6.2 points).
In addition to unveling the brands with the best buzz overall, YouGov also measured the Singaporean brands with the most positive buzz. Singapore Airlines, Changi Airport and Gardens by the Bay make the top three, followed by local banks DBS and POSB (21.6). Pan-Asian news channel Channel News Asia comes in sixth (21.4).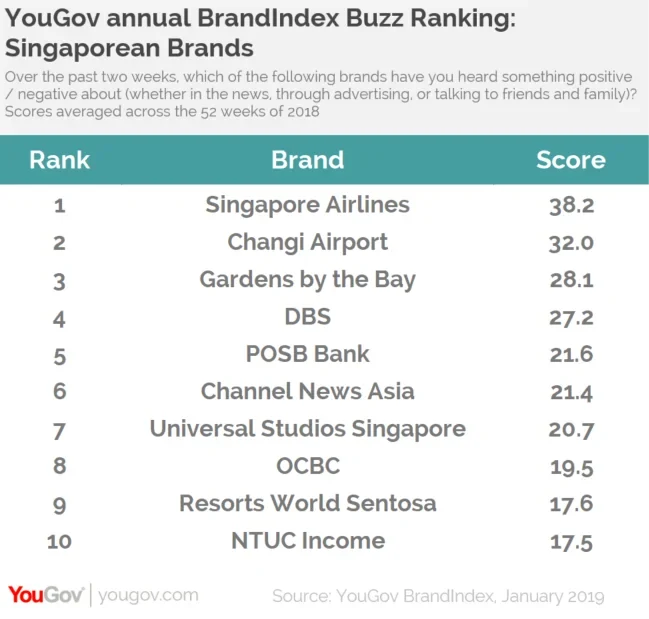 Ervin Ha, Head of Data Products commented: "Singaporean brands have really shone through in this year's Buzz rankings. For the fourth year in a row, Singapore Airline is the brand that most people have heard positive things about. On the most improved list, after a tough 18 months SMRT shows great improvement. It's clear that local brands have really got Singaporeans buzzing."