YouGov release regional rankings of best QSR brands
American chains dominate the top ten
Local favourite Ya Kun Kaya Toast places seventh
McDonald's far ahead of competition for customer satisfaction
Starbucks and Coffee Bean score lowest for value-for-money
McDonald's tops YouGov's 2021 QSR Rankings for Singapore with an Index score of +39.3, making it the restaurant brand with the best overall brand health according to Singaporeans.
The rankings are compiled using YouGov BrandIndex Index score, a measure of overall brand health calculated by taking the average of Impression, Quality, Value, Satisfaction, Recommend and Reputation scores. The rankings are measured from 1 March 2020 to 28 February 2021.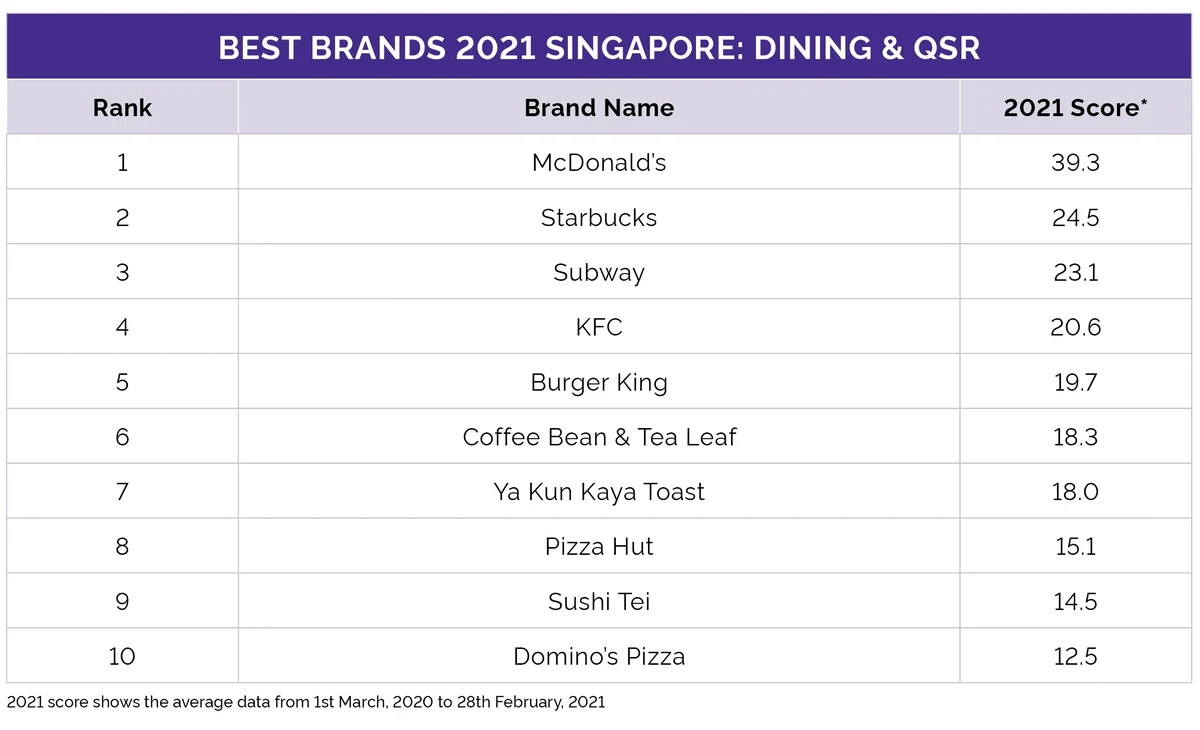 In spite of a difficult year of staff testing positive for COVID-19, and an extended closure during the circuit breaker, McDonald's still came up on top in five of the six metrics that make up its Index score. It scored particularly well for Value (measuring the brand consumers see to be the most value-for-money). It holds a Value score of +43.1, making it 21.2 points ahead of KFC who has the second highest Value score (+21.9). McDonald's is also far ahead of the competition when it comes to Satisfaction (measuring which consumers are the most satisfied) with a score of +50.3, with Subway trailing 22.3 points behind with a score of +28.0.
The one metric that McDonald's doesn't get top marks for is for Reputation (measuring which brand consumers would be proudest to work for). Coffee chain Starbucks comes in first place for Reputation (+29.5), with McDonald's following behind with a score of +20.7.
American chains dominate the top ten. Starbucks comes in strong in second place (+24.3). However, it scores the lowest when it comes to Value, holding a low score of +2.1. Subway takes third (+23.1), KFC in fourth (+20.6) and Burger King in fifth (+19.7).
Coffee Bean & Tea Leaf takes sixth place (+18.3), but similar to its coffee competitor Starbucks, it scores low for Value (+4.6). Pizza Hut is in eighth (+15.1) and Domino's Pizza is in tenth (+12.5).
The list is completed with local favourite Ya Kun Kaya Toast in seventh (+18.0) and Sushi Tei in ninth (+14.5).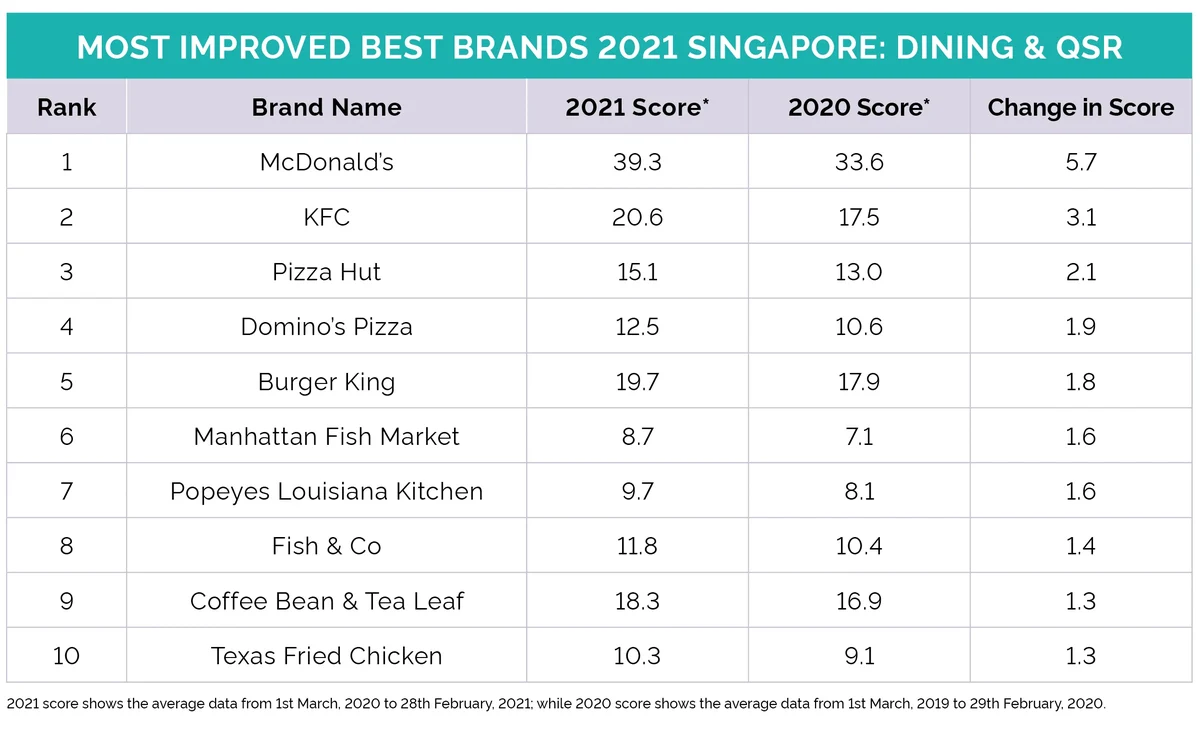 The rankings also looks at which QSR brands have shown the most improvement over the past year. Again, McDonald's shines with the most improved score (moving up 5.7 points), followed by KFC (up 3.1) and Pizza Hut (up 2.1).