This month, e-commerce platform Lazada is the brand that has achieved the highest uplift in its Ad Awareness over the past month.
The rise coincides with their latest #homecation campaign promoting their products to help Singaporeans through the quarantine due to the COVID-19 pandemic. The ad has over 5.2 million views on YouTube alone.
Launched about a month ago, the succinct advertisement shows the various products customers can buy off Lazada. From cooking equipment to show off "Masterchef" skills, to boxes for organising toys, to a mop – demonstrated in the ad as a dancing tool. The ad ends with the words 'unlock your Lazada #homecation'. The ad promotes that through buying various products off the Lazada platform, one can entertain themselves and have a #homecation from the confines of their home during quarantine.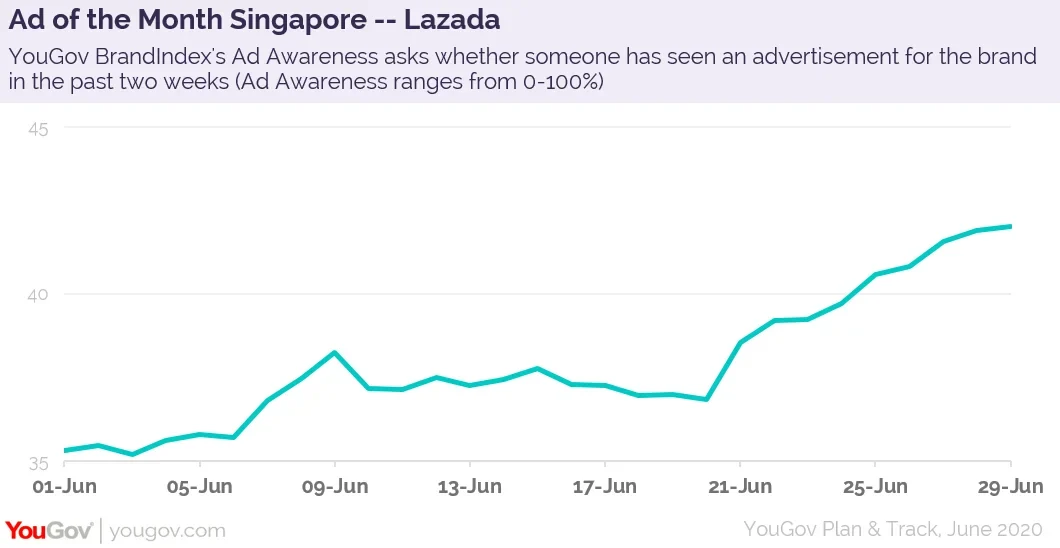 YouGov BrandIndex data shows that Lazada ads have captured Thai attentions. Lazada's Ad Awareness score (whether someone has seen an advert for the brand in the past two weeks) has risen from 35.3 to 42.0, jumping +6.7 points.
Not only are Singaporean noticing Lazada ads, they has also been an increase in Quality scores, from 24.9 to 29.7. This increase of +4.8 shows that Singaporeans are now more likely to think of the brand as being of good quality.