Singapore Airlines tops the list for the fifth year in a row
National carrier Singapore Airlines heads YouGov's annual BrandIndex Buzz Rankings in Singapore, taking the top spot for the fifth year in a row.
YouGov BrandIndex measures the public's perception of brands on a daily basis across a range of measures. The annual rankings are compiled using Buzz scores from across all 52 weeks of last year. Buzz scores measure whether people have heard anything good or bad about a brand during the previous two weeks.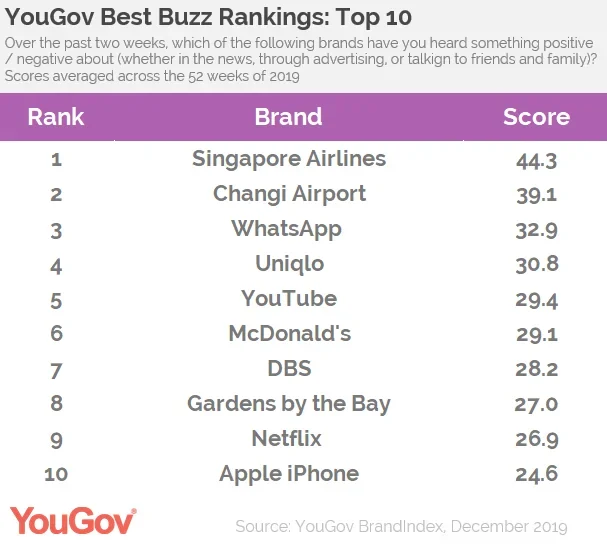 Local brands have a strong presence in the top ten. Changi Airport comes in second (39.1), multinational bank DBS in seventh and popular tourist destination Gardens by the Bay in eighth (27.0).
Digital brands also fare quite well, with instant messaging platform WhatsApp in third (32.9), video-sharing platform Netflix in ninth (26.9) and Apple iPhone in tenth (24.6). The list of rounded up by brands from various industries. Japanese retailer Uniqlo is in fourth (30.8), fast-food giant McDonald's in sixth (29.1).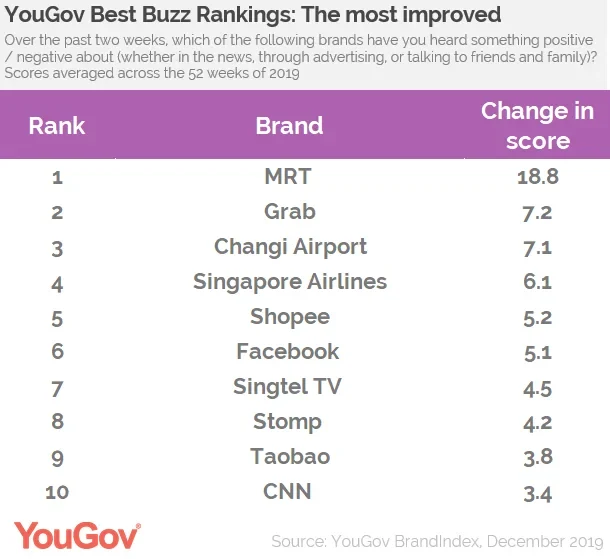 YouGov also reveals which brands have the most improved Buzz scores. MRT comes up as the brand with the biggest improvement for the second year running with a rise of 18.8 points. It followed by ride-hailing service Grab (up +7.2 points), and Changi Airport (up +7.1 points).
Ervin Ha, Head of Data Products commented: "There is certainly a sense of Singaporean pride, looking at the number of local brands that have made the top ten, and with Singapore Airlines again coming in first for the fifth time in a row. Staying the most positively talked about brand in the nation for a few year running is a great testament to the service of the nations' most loved airlines."