Home-grown fashion retailer Charles & Keith is the brand that achieved the biggest rise in Ad Awareness this month, according to YouGov Plan & Track.
The brand launched its summer 2019 collection of fashion sneakers with an ad featuring South Korean longboarder Ko Hyojoo. The one-minute ad "Cruising with Hyojoo in Charles & Keith" features Hyojoo testing out the brand's new sneakers while longboarding at the scenic Manhattan Beach California.
The longboarder turned model boasts over half a million followers on Instagram, and has endorsed brands like GoPro and Converse in the past. She has also been featured in Vogue, Hypebae and Marie Claire.
YouGov Plan & Track data shows that Charles & Keith's cruisy, cool ad have captured Singaporeans attention. Charles & Keith's Ad Awareness score (whether someone has seen an advert for the brand in the past two weeks) has risen from 5.1 to 14.4 over the past month, jumping +9.3 points.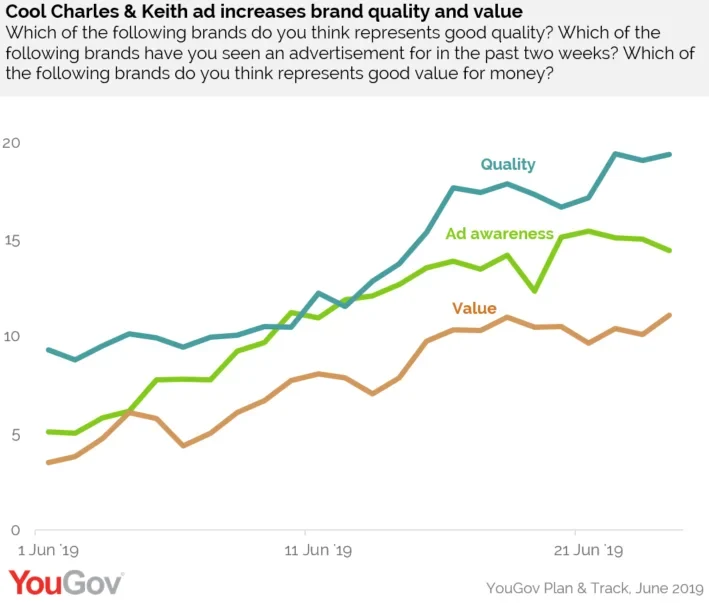 Singaporean consumers are not only noticing Charles & Keith ads, they are also now more likely to think their products to be of better quality and value. The brands Quality score has risen from 9.2 to 19.3, a rise of +10.1 points. Its Value score has gone from 3.4 to 11.0, an increase of +7.9 points.
YouGov Profiles data reveals the profile of a typical Charles & Keith customers. They tend to be female, aged 25 to 34 and are likely to also be customers of Mango, Sephora and H&M.