Drowning, death, fire and heights at the top of the phobia list
In the spirit of spooky season, latest YouGov research reveals what Singaporeans fear most.
The survey presented respondents with 15 common phobias and asked them just how fear-inducing each one is. Drowning (53%) is the thing that Singaporeans fear most, followed by fire (48%), reptiles (47%) and cockroaches (42%).
Women as a whole are far more likely to very afraid of things. Women are twice as likely to be very afraid of reptiles than men (61% vs. 32%), and are also more likely to fear cockroaches (56% vs. 28%). Men and women are equally likely to fear death (40%).
Phobias also differ depending on age groups. Amongst those aged 18 to 24, half (53%) are very afraid of cockroaches. For those aged 25 to 34, their biggest fear is death (53%). And for those 35 and upwards, their greatest fear is drowning (56%). Younger Singaporeans (aged 18 to 24) are also more likely to fear spiders than older Singaporeans (aged 55 and above) (42% vs. 25%). Conversely, older Singaporeans are more likely to fear germs than younger Singaporeans (51% vs. 22%).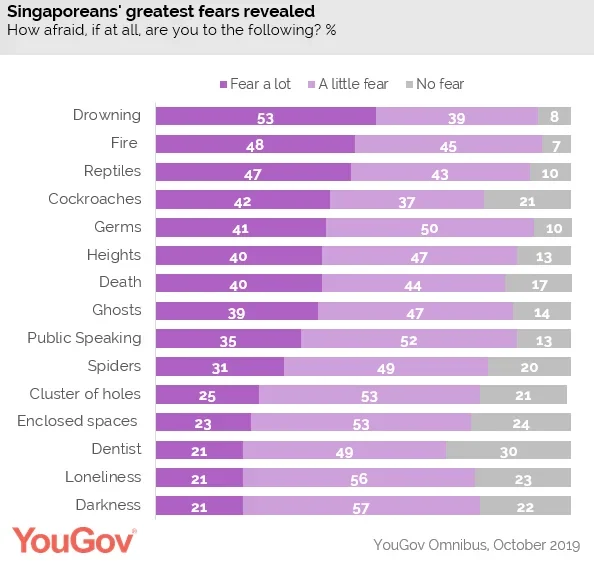 Singaporeans are least likely to be afraid of the dentist, with a three in ten (30%) feeling unafraid of them. This is followed by enclosed spaces (24%), loneliness (23%) and darkness (22%).
***Results based on 1,033 Singaporeans surveyed by YouGov Omnibus