Over half believe in some form of life after death
Ever wondered what happens when you die? For one in ten (10%) Singaporeans, they believe that they are going to hell.[1] Latest YouGov research examines what Singaporeans think of an afterlife.
Over half (56%) believe in some form of life after death. Two in ten (18%) don't, and the remaining quarter (26%) are unsure. The most popular belief of what happens when you die is that you get taken to Heaven or Hell (32%). Other beliefs include reincarnation (15%) or being turned into a spirit (6%).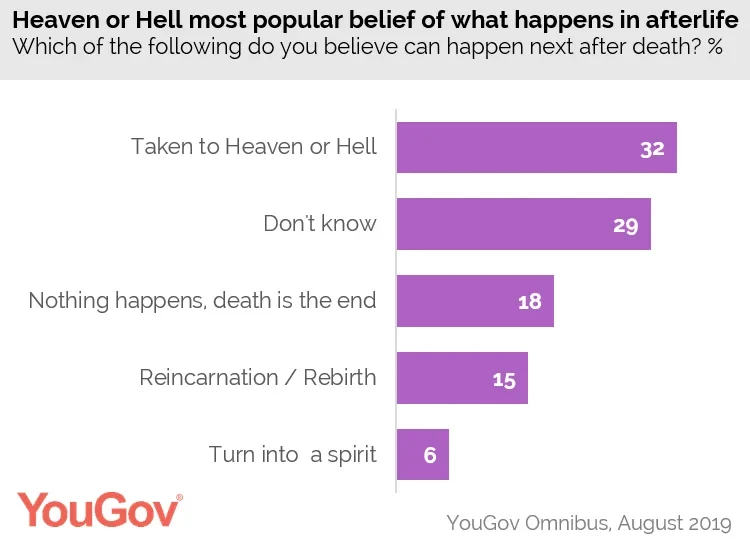 A third (32%) of Singaporeans fear death, and the other third (37%) do not. The remaining third (31%) feels impartial towards it. Older Singaporeans (aged 55 and above) are less likely to fear death, with half (51%) saying they do not fear it, compared to a quarter (26%) millennials (aged 18 to 34).
When asked if they were to die tomorrow, how would they feel – four in ten (40%) Singaporeans said they would die happy. Over a third (36%) said they would die unhappy, and a quarter (23%) are undecided. High income earners (those earning more than SGD 8,000 a month) are more likely to say they will die happy than low income earners (earning less than SGD 4,000 a month) (45% vs. 39%).
While a quarter (27%) would like to live forever, the majority (57%) would not. Data shows that the older one gets, the less likely they are to want to live forever. While almost four in ten (38%) of young Singaporeans (aged 18 to 24) want to be immortal, this drops to two in ten (19%) amongst older Singaporeans (aged 55 and above). On average, Singaporeans wish to live to the age of 84 years old.
Jake Gammon, Head of Omnibus APAC at YouGov Omnibus commented: "One of life's greatest mysteries is what happens after you die, and for most Singaporeans there is a life after death. What's interesting is how one's perceptions on life and death change over time, and how this is even affected depending on income group."

***Results based on 1,106 Singaporeans surveyed by YouGov Omnibus
[1] In response to the question: "Imagine that heaven and hell exist, which one would you think you will end up in the life after death?"