Almost half trust the government with their private data
In the continuous battle to curb the spread of COVID-19, the Singaporean government intends to roll out a tracking token, a small device that people can carry around in their bag or token. Latest YouGov data reveals what Singaporeans think about the token, and of the nation being the first in the world the world to roll out a wearable device to track COVID-19.
With an online petition gathering over 50,000 signatures so far, the tracking token appears to be quite a polarising topic. In spite of the government reiterating that the token will not track one's location, Singaporeans remain divided on the issue. Over half (57%) are willing and the under half (43%) are unwilling to wear / carry a tracking token. Looking at the degree to which Singaporeans are willing, one in five (18%) are very willing, two in five (39%) are somewhat willing, a quarter (26%) are somewhat unwilling and one in six (17%) are very unwilling. Those over the age of 55 are the most willing to carry a tracking token and those aged 35 to 44 are the least willing (61% vs. 52%). Women are also more willing to carry a token than men (58% vs. 55%).
The biggest issue Singaporeans have with the token is privacy infringement, with three in five (58%) selecting it as a concern. This is followed by other concerns like inconvenience (43%), concerns about user-friendliness (27%), not thinking it would be effective (20%) and other reasons (2%). One in seven (14%) have no concerns with the token.
Almost half of Singaporeans (45%) trust the government with their private data, but this differs greatly between those are and are not willing to wear the token. For those who are willing to wear a token, almost two thirds (64%) trust the government with their data, but amongst those who aren't willing to wear one, this drops to one in five (20%).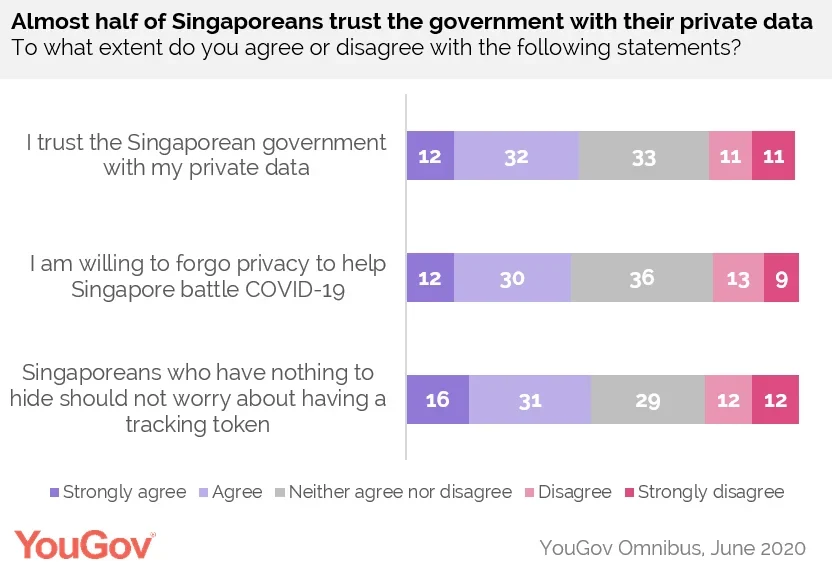 Two in five (42%) agree with the statement that they are willing to forgo privacy to help the nation battle COVID-19. One in five (22%) disagree and a significant amount are undecided (36%). Again, this differs greatly between those who are willing and not willing to carry a token (62% vs. 15%). Almost half (47%) agree with the statement that Singaporeans who have nothing to hide should not worry about having a token. Older Singaporeans (those aged 55 and above) are most likely to agree with this statement, while Singaporeans aged 25 to 34 are the least likely to agree (52% vs. 41%).
Jake Gammon, Head of Omnibus at YouGov Asia Pacific commented: "Though it's been made clear the tracking tokens are purely for tracking the virus and not individuals, our data shows that they still remain a polarising topic. It is natural that privacy is the first thing that comes to mind, but not everyone agrees on how much of their privacy they are willing to give up."
***Results based on 1,115 Singaporeans surveyed by YouGov Omnibus.