Young more likely to be on diets and dissatisfied
A significant percentage of Singaporeans are unhappy with their weight, the latest YouGov research reveals.
Two in five (43%) are 'dissatisfied' with their current weight, more than those that are satisfied (27%) or who aren't bothered (30%). The study finds that younger people are less satisfied with their weight than older generations. Although only two in ten (21%) of those aged 25 to 34 are happy with their weight, this increases to over a third (35%) for those aged 55 and above. Women are also notably more likely than men to be dissatisfied with their weight (47% vs 39%).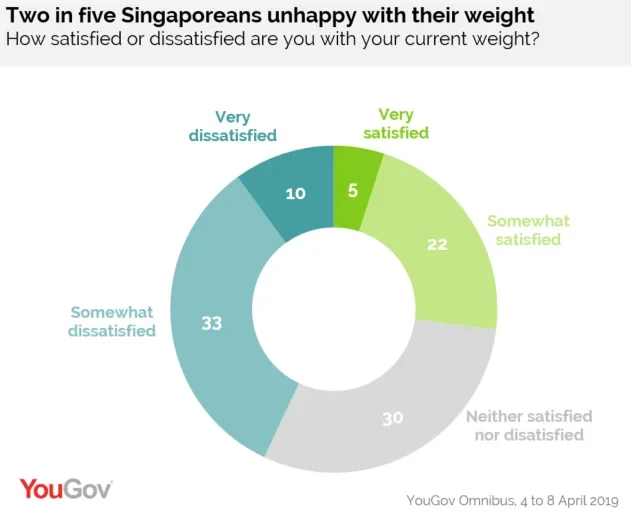 YouGov's data shows that one in five (22%) Singaporeans are currently on a diet to lose weight. People under-25s are twice as likely as those over 55s to be dieting (30% vs 15%). The research reveals that dieting trends are similar among men and women.
The research finds that most Singaporeans believe that their appearance affects their daily lives. Three quarters (74%) think that how they look has an impact on their personal life, and seven in ten (69%) believe it affects their professional life. Moreover, four in ten (39%) state that they would not date someone who is overweight and over half (55%) reckon that good-looking people tend to be more successful.
While one in ten (9%) of Singaporeans have gone under the knife and had cosmetic plastic surgery, almost half (46%) are currently considering having some form of procedure done.
Jake Gammon, Head of Omnibus APAC at YouGov Omnibus commented: "Although the media might not play that big a role on body image, Singaporeans as a whole are quite concerned about their weight – with a significant percentage of the population on a diet. The question is whose responsibility is it to ensure citizens maintain good physical and mental health."
***Results based on 1,202 Singaporeans surveyed by YouGov Omnibus