Prime Minister Lee Hsien Loong moves up two spots and is now the second most admired man in Singapore
Former United States President Barack Obama has topped the list as Singapore's most admired man for the fourth year in a row, according to YouGov's annual study of which public figures people look up to.
Following Barack Obama is Prime Minister Lee Hsien Loong, climbing up two spots from last year to become the second most admired man in Singapore.
In third place is Canadian actor Keanu Reeves, climbing up four places since last year. American business magnate Warren Buffet follows him in fourth.
The rest of the top ten is completed by actor Jackie Chan in sixth, Elon Musk in eighth, Cristiano Ronaldo in ninth and Andy Lau in tenth.
Former First Lady of the United States Michelle Obama remains Singapore's most admired woman for the fourth year running. Other world leaders also feature prominently in the top ten. Queen Elizabeth II remains in second, as does Prime Minister of New Zealand Jacinda Ardern in fourth. Burmese politician Aung San Suu Kyi and the first female Chancellor of Germany Angela Merkel move up the list to third and seventh, respectively.
Activist for female education and a Nobel Peace Prize laureate Malala Yousafzai, makes a debut in the top ten of most admired women, coming in tenth place.
The rest of the list is rounded off with celebrities. Talk show host Oprah Winfrey places in sixth, actress Angelia Jolie in fifth, singer Taylor Swift in ninth, and English actress and activist Emma Watson makes a brand new entry into the list in eighth.
The Obamas remain the world's most admired man and woman
Barack Obama retains his position as world's most admired man in YouGov's international survey this year, having wrested the position from long-time incumbent Bill Gates last year.
Michelle Obama likewise holds on to her position as world's most admired woman for the third year running.
In fact, the top three spots for each gender are unchanged since last year, with business tycoon and philanthropist Bill Gates remaining second among men, followed by Chinese premier Xi Jinping. Actress and humanitarian Angelina Jolie continues to be the world's second-most admired woman, ahead of third placed British monarch Queen Elizabeth II.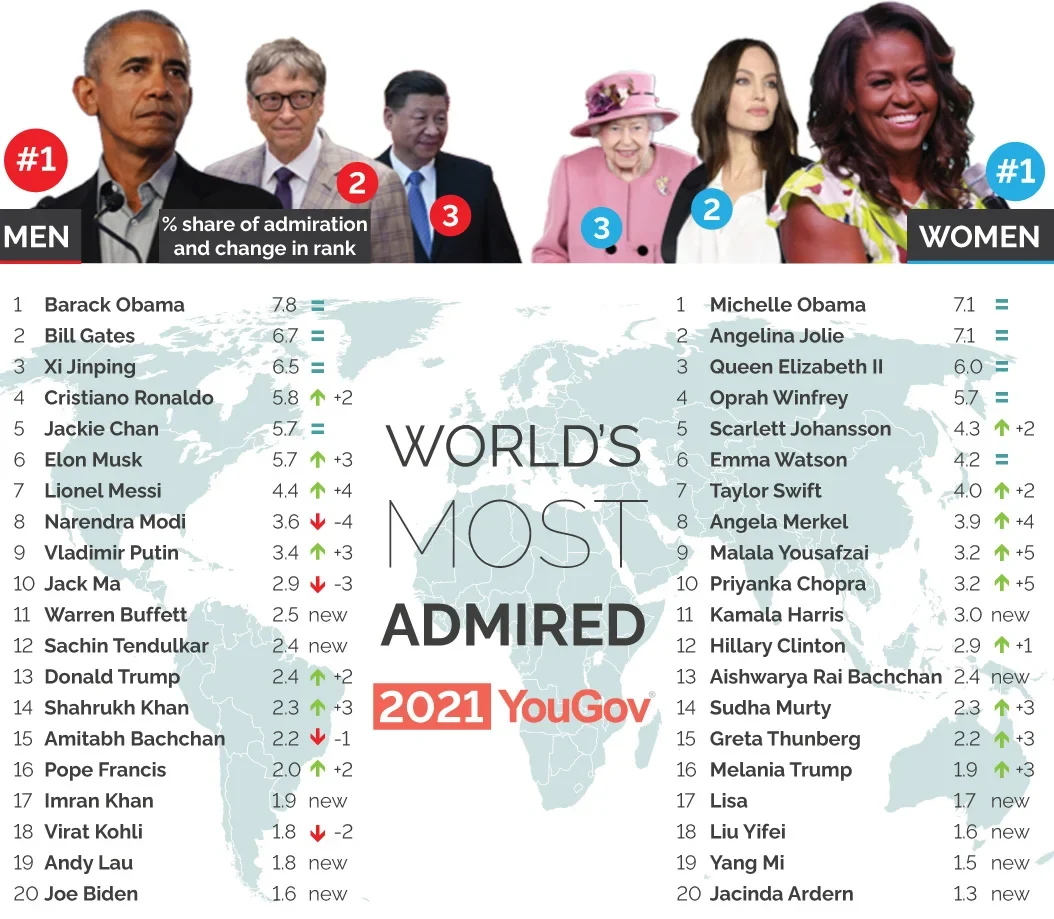 This year's study surveyed more than 42,000 people in 38 countries and territories to compile the list.
Pakistani human rights campaigner Malala Yousafzai and Indian actress Priyanka Chopra have risen farthest in the ranks this year, climbing five places to 9th and 10th respectively. In Chopra's case, this represents her best performance in the series so far.
Among the men, Argentine footballer Lionel Messi has seen the greatest increase since last time, climbing four places from 11th to 7th – his highest rank to date. Despite this record placement, as well as his recent Ballon D'or win, Messi still lags behind Portuguese rival Cristiano Ronaldo in 4th place (also Ronaldo's best showing to date).
Entertainers are more prominent in the female list, with 10 of the most admired women being actresses, singers or TV presenters (although some, like Emma Watson and Angelina Jolie, are also notable for their humanitarian work). By contrast, the list of most admired men contains more people from political, business and sporting backgrounds.
New additions to the top twenties this year include US president Joe Biden and his vice president Kamala Harris, Indian cricketer Sachin Tendulkar, Thai rapper Lisa (of Blackpink fame), and New Zealand prime minister Jacinda Ardern.
This year's rankings also see the re-entry into the top twenties of investor Warren Buffett, Pakistani prime minister Imran Khan, Indian actress Aishwarya Rai Bachchan, and Chinese actresses Liu Yifei and Yang Mi.
Methodology
During the spring this year YouGov gathered open-ended nominations from panellists across 38 countries and territories, asking them simply: "Thinking about people alive in the world today, which [man or woman] do you most admire?" These nominations were then used to compile a list of the 20 men and 20 women who received the most nominations and were nominated in at least four countries. An additional 5-10 popular local figures were added to the lists for individual countries.
In fieldwork conducted from over the summer and autumn we used these lists to poll each of the 38 areas asking two questions: "who do you truly admire?", where respondents could make multiple selections, and "who do you MOST admire?", where they could only pick one. These two numbers were combined into a percentage share of admiration, displayed to the right of each name in the graphic above and table below, which shows the full results for every country including local celebrities and public figures:
By asking respondents two questions, we can understand both the breadth (i.e. global reach) and the intensity of a person's support.
Altogether, we polled in countries that constitute more than seven-tenths of the world's population. However, some parts of the world were better represented than others, so we weighted up the impact certain countries had on the final scores and weighted down others so the global scores more accurately reflect the breakdown of sentiment in the world overall.
All of the surveys were conducted online, and in many of the countries the internet penetration is low to the point where the sample can only be said to be representative to the online population. The countries and territories where this applies are Colombia, Egypt, India, Indonesia, Malaysia, Mexico, Pakistan, the Philippines and South Africa.