APAC Biggest Brand Movers highlight the top ten brands that have registered statistically significant month-on-month upticks in consumer perception, across various Asia-Pacific markets. These rankings identify brands which have logged the greatest number of improvements across 13 metrics each month – ranging from brand awareness and reputation, to purchase consideration and customer satisfaction – in YouGov BrandIndex, a syndicated brand tracker which continuously collects data on thousands of brands around the globe every day.
eBay has claimed the top spot among Singapore's Biggest Brand Movers in December.

The American e-commerce brand made gains in eight out of 13 YouGov BrandIndex metrics, across the Media category (Ad Awareness, WOM Exposure, Buzz), Brand Health category (Reputation, Satisfaction, Recommend, Quality) and Purchase Funnel category (Consideration).

According to eBay's Seller Center, December is a peak season for sales on the online shopping platform. In a Facebook post on 9 December, eBay had also encouraged sellers to embrace the festive season by sending their buyers small gifts with their orders, to receive the gift of potential return buyers.

Myojo is the runner-up, with upticks in Media (Buzz) and Purchase Funnel metrics (Consideration, Purchase Intent, Current Customer), indicating that the instant noodle brand won new customers over the holiday season, amid positive chatter about the brand.

Bioré took the third position, with the Japanese skincare brand seeing improvements in Media (Awareness) and Brand Health metrics (Impression, Satisfaction, Recommend), indicating growth in the number of consumers who now recognise and hold a positive opinion of the beauty label, and would recommend it to friends and colleagues.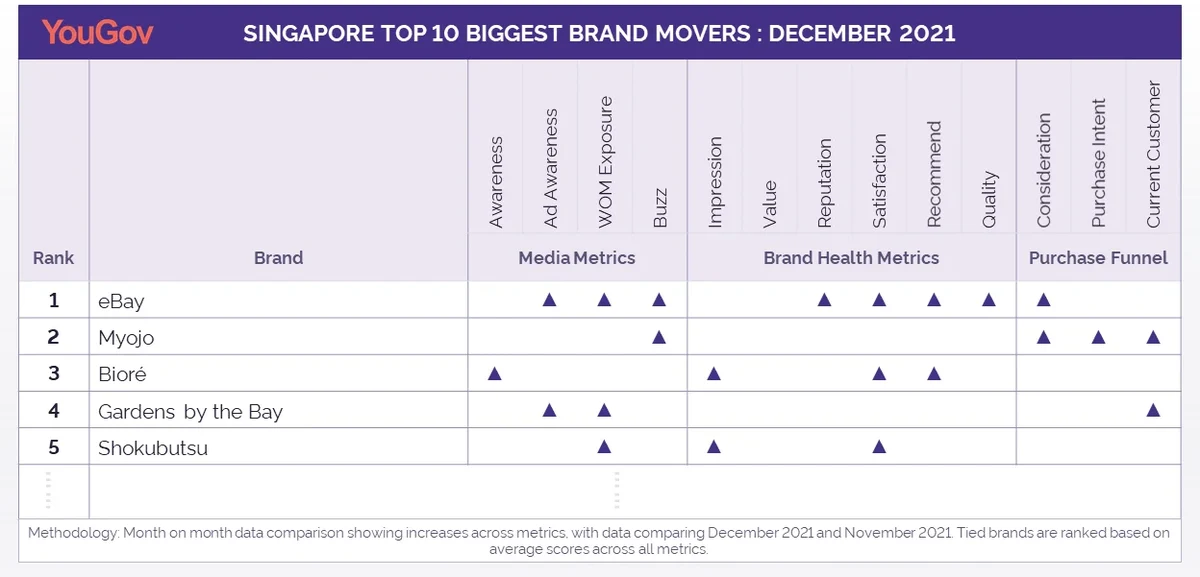 Gardens by the Bay came in fourth, making gains in Media (Ad Awareness, WOM Exposure) and Purchase Funnel metrics (Current Customer). The national garden had recently held its annual Christmas Wonderland event – a ticketed Yuletide carnival featuring festive light displays, amusement park games, and pop-up food and gift stalls – which attracted large crowds this past December.

Additionally, Gardens by the Bay was also featured as the setting of the first episode of superhero franchise Ultraman's latest series, Ultraman: A New Power Of Singapore, released on 7 December to celebrate 55 years of diplomatic relations between the Singapore and Japan. A teaser clip of the new show was even posted by Prime Minister Lee Hsien Loong on his Facebook page, garnering some 8,900 post reactions and 1,200 shares, as of late January 2022.

It comes as no surprise then that the horticultural attraction scored the biggest spike in Ad Awareness, compared to any other brand in Singapore, for the month of December 2021.

Shokubutsu clinched the fifth spot, enjoying improvements in Media (WOM Exposure) and Brand Health metrics (Impression, Satisfaction), indicating that more consumers were talking about the Japanese hair/body wash and facial foam brand, and held a positive opinion of the brand and its products.
Was your brand one of our Biggest Movers in December?
Uncover the other brands that were among the top ten in Singapore and other Asia Pacific markets, by requesting your free copy of YouGov's APAC Biggest Brand Movers Report for December 2021 here.
Methodology
Biggest Brand Movers for December 2021 ranked brands according to the number of statistically significant score increases they achieved across the following BrandIndex metrics, between November and December 2021:
Media Metrics
Awareness – Whether or not a consumer has ever heard of a brand
Ad Awareness – Whether a consumer has seen or heard an advertisement for a brand in the past two weeks
Word of Mouth – Whether a consumer has talked about a brand with family or friends in the past two weeks
Buzz – Whether a consumer has heard anything positive or negative about a brand in the past two weeks (net score)
Brand Health Metrics
Quality – Whether a consumer considers a brand to represent good or poor quality
Value – Whether a consumer considers a brand to represent good or poor value for money
Impression – Whether a consumer has a positive or negative impression of a brand
Reputation – Whether a consumer would be proud or embarrassed to work for a particular brand
Satisfaction – Whether a consumer is currently a satisfied or dissatisfied customer of a particular brand
Recommend – Whether a consumer would recommend a brand to a friend or colleague or not
Purchase Funnel Metrics
Consideration – Whether a consumer would consider a brand or not the next time they are in the market for a particular product
Purchase Intent – Whether a consumer would be most likely or unlikely to purchase a specific product
Current Customer – Whether a consumer has purchased a given product or not within in a specified period of time