YouGov polls the public on 50 traditional Singaporean dishes such as chicken rice, chili crab and kueh.
Singaporeans are a big fan of their own food. A recent YouGov survey found that 96% of Singaporeans enjoy their own national cuisine. Latest YouGov research delves deeper into that statistic and reveals the popularity of 50 classic Singaporean foods.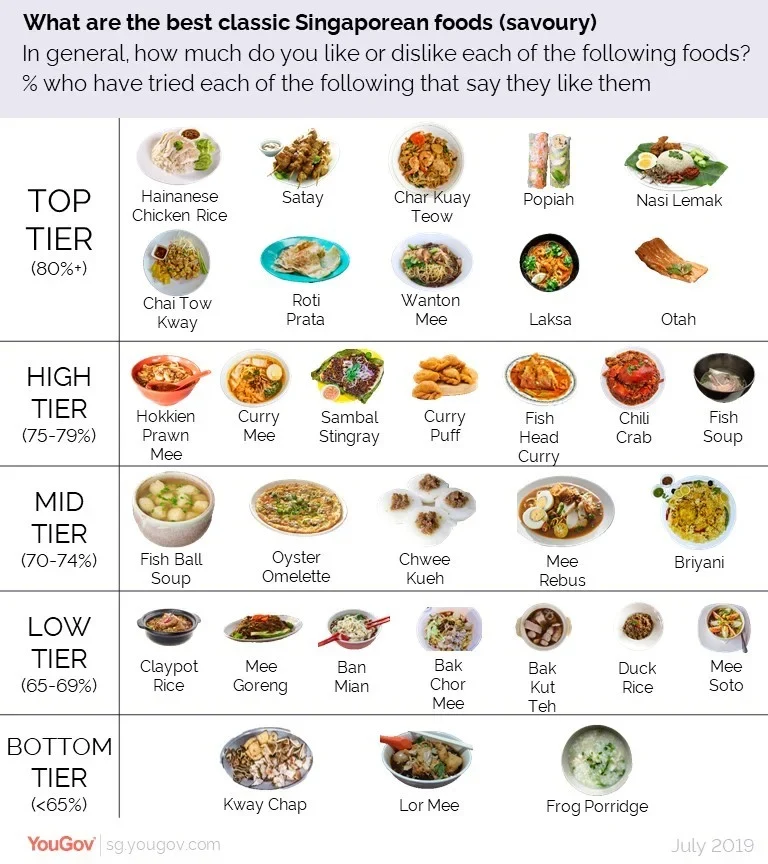 Savoury
Hainanese chicken rice top the savoury list, with 89% of Singaporeans who have tried them saying that they liked it. It is followed closely by satay (87%) and popiah (86%).
Other top dishes according to the public includes char kuay teow (86%), nasi lemak (84%) and chai tow kway (84%).
At the very bottom of the list is frog porridge. Although 82% of Singaporeans have tried the adventurous dish, only 50% of those who have tried the cooked amphibian meal say they have a taste for it. Frog porridge is particular popular amongst those aged 45 to 54, with 59% saying they like it, compared to 39% of those aged 18 to 24.
Lor mee comes second from the bottom, with only 63% of those who have tried the noodle dish liking it.
There is also a difference in taste preferences depending on age. Younger Singaporeans (18 to 24 years old) are more likely to enjoy roti prata than older Singaporeans (aged 55 and above) (96% vs. 81%). While older Singaporeans are more likely to enjoy cheng tng than younger Singaporeans (82% vs. 45%).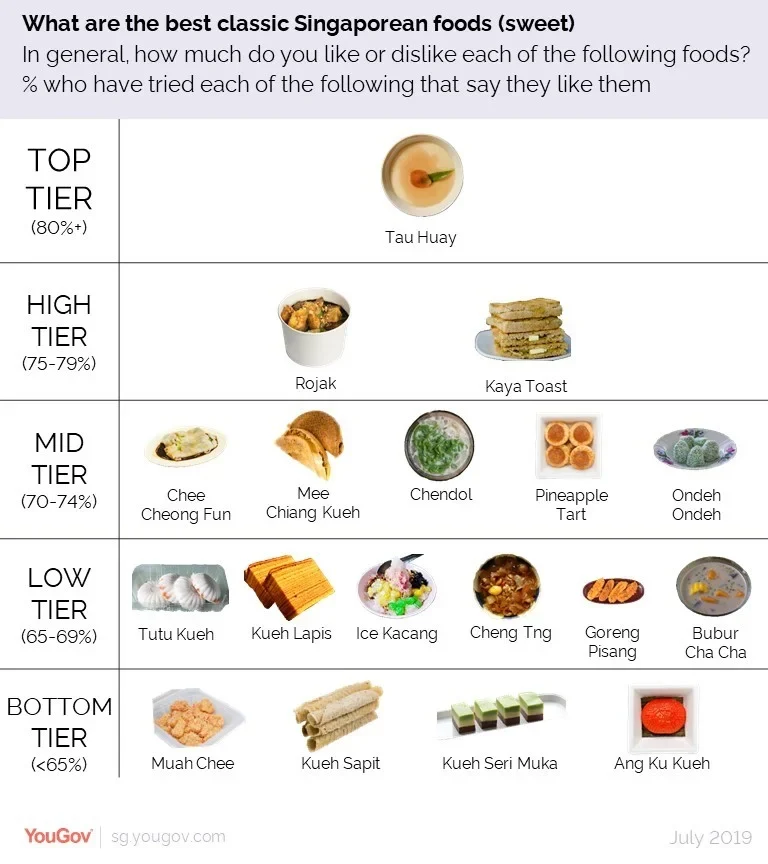 Sweet
Turning to the sweet list, the results find tau huay sitting in the Top-Tier, with 84% of Singaporeans say they like it. It is the only dessert in the Top-Tier.
Following tau huay in the High-Tier is fruit and vegetable salad rojak (81%) and traditional breakfast kaya toast (76%).
Other top desserts include chee cheong fun (79%), mee chiang kueh (76%), chendol (75%) and pineapple tarts (71%).
Ang ku kueh comes in at the bottom, with only 61% of those who have ever tasted it saying they enjoyed the experience. The traditional Chinese dessert is unsurprisingly more popular amongst Chinese people (with 63% liking it) than Malays (55%) or Indians (44%).
Data shows that men are also more likely than women to enjoy goreng pisang (71% vs. 65%) and chendol (79% vs. 70%). Whereas women are more likely to enjoy ondeh ondeh (76% vs. 69%).