The most popular brands among 18-34 year-olds.
McDonald's is the most positively talked about brand amongst millennials, new data from YouGov BrandIndex reveals.
The American casual dining chain tops the latest YouGov's rankings, which consider the brand 18 to 34 year olds have discussed with friends in favourable terms.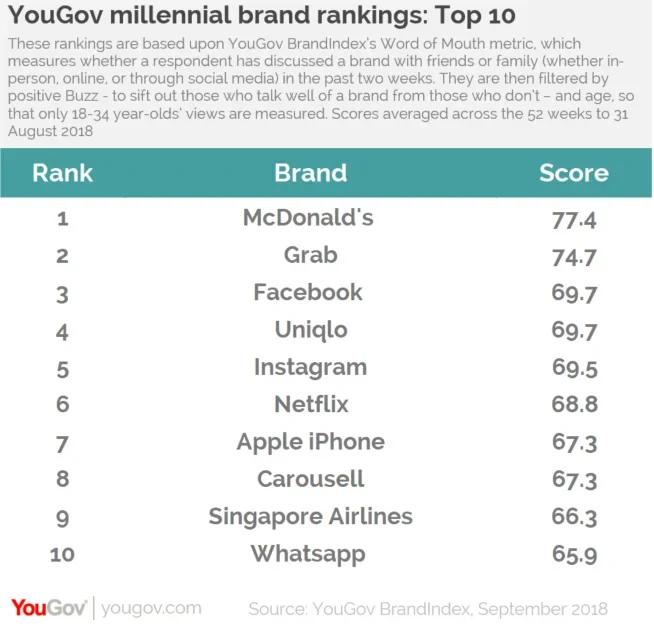 followed by ride-hailing app Grab (74.7) in second. Social media platforms have a strong presence in the top ten with Facebook (69.7) in third, Instagram (69.5) in fifth and WhatsApp (65.9) in tenth. Other digitally-focused brands also do well with SVOD service Netflix in sixth (68.8), Apple iPhone (67.3) in seventh, and e-commerce platform Carousell (67.3) in eighth.
The top ten is rounded out by Japanese fashion store Uniqlo in fourth place (69.7) and national carrier Singapore Airlines in ninth (66.3).
Ervin Ha, YouGov's APAC Head of Data Products: "McDonald's continues to be extremely popular with younger Singaporeans, with their affordable meals and viral marketing campaigns. It's Ramadan advertisement racked up over 1.1m views on YouTube alone, and was even picked up by Buzzfeed. By harnessing the power of word of mouth recommendations, McDonald's is a clear leader amongst Singaporean millennials."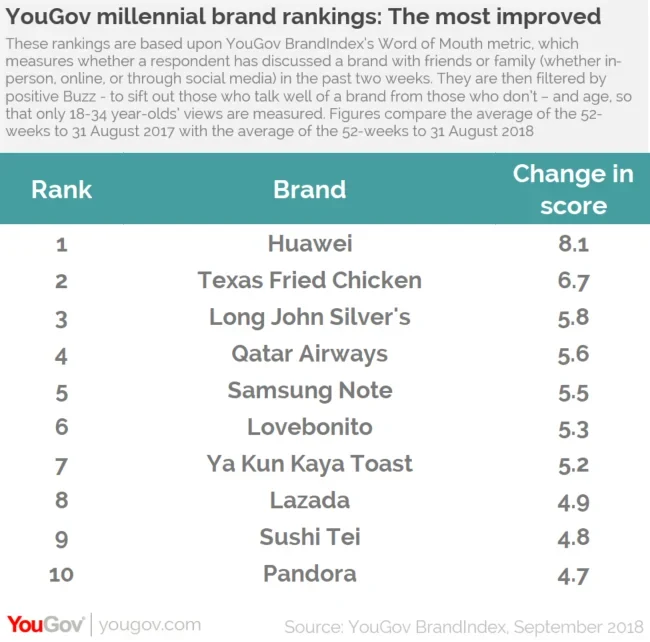 The rankings also show which brands have experienced the greatest uplift in the positive word of mouth over the past 12 months. Huawei, the world's second largest smartphone manufacturer, tops the improvers list with its score increasing by +8.1 points. It appears ahead of Texas Fried Chicken (+6.7), Long John Silver's (+5.8), Qatar Airways (+5.6), and Samsung Note (+5.5).
YouGov's rankings are based upon YouGov BrandIndex's Word of Mouth metric, which measures whether a respondent has discussed a brand with friends or family (whether in-person, online, or through social media) in the past two weeks. They are then filtered by positive Buzz - to sift out those who talk well of a brand from those who don't – and age, so that only 18-34 year-olds' views are measured.
(Image Source: Getty)