Australia's optimism has tempered only slightly, and most fans continue to believe their side will win the series overall
YouGov's last survey following the Ashes 2015, conducted ahead of the first Test in Cardiff, found Australian cricket fans overwhelmingly optimistic with 76% expecting their side to win the Test. And following a 169-run victory for England, Australians are hardly feeling humbled.
70% of Australians who are following the Ashes say their side will defeat England in the second Test at Lords, which begins on Thursday. 20% expect an England win, which is also up slightly from last week when only 13% gave England the edge.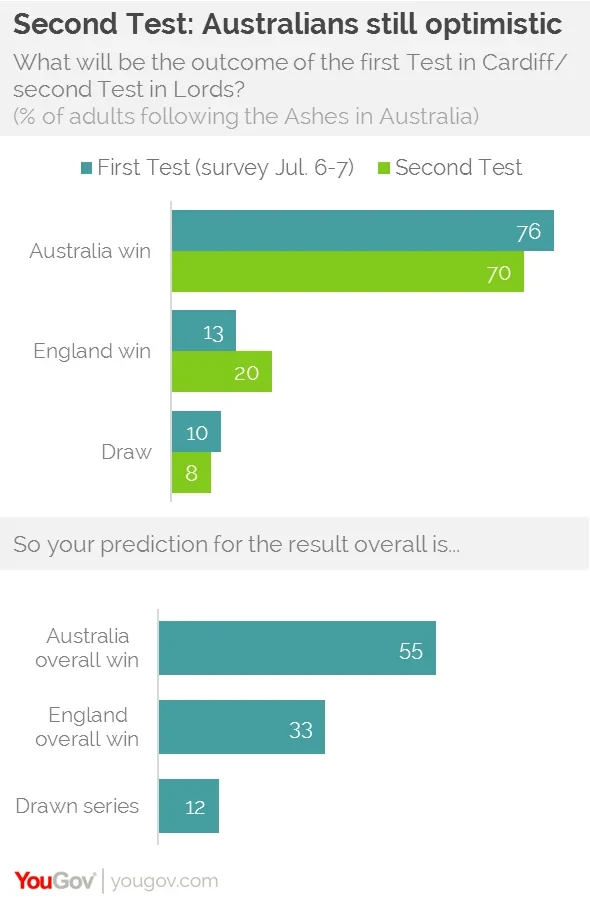 Yet Australians expectations have fallen more significantly when it comes to their prospects for the whole series. Last week 81% of Australian cricket fans expected to win three or more Tests out of five, and now only 46% expect that.
Even so, the majority – 55% – still hold the view that Australia will win overall, against only a third who favour England's odds.
The survey also shows the rumoured decision by Australia to drop all-rounder Shane Watson for the second test will be popular at home.
53% of fans favoured leaving the 34-year-old Watson out of the Australian XI. None of the other options – Brad Haddin, Adam Voges and Mitchell Starc – got more than 6%.
PA image