Bila orang mencari cinta, apakah yang paling mereka hargai? Kajian antarabangsa baru YouGov di 20 buah negara mengkaji sifat-sifat pasangan yang paling diutamakan oleh seseorang. Keputusan yang diperoleh adalah berita baik untuk para romantis, kerana di seluruh dunia, personaliti adalah yang paling bernilai dan dipandang tinggi.
Singapura
Di Singapura, personaliti merupakan sifat yang paling penting. Antara kedua-dua lelaki dan wanita, 50% meletakkan "personaliti yang saya suka" sebagai ciri yang paling mereka utamakan pada pasangan romantik (dan 22% lagi meletakkan ciri ini sebagai kedua paling penting).
Rasa humor berada di kedudukan seterusnya, dengan 24% meletakkannya pada kedudukan kedua (bersama dengan 16% wanita dan 8% lelaki yang meletakkannya pada kedudukan pertama).
Lelaki dan wanita sangat berbeza dari segi pentingnya rupa paras, kerana lelaki Singapura meletakkan kedudukan lebih tinggi yang sangat ketara untuk paras fizikal pasangan berbanding wanita. Ketika 70% lelaki meletakkan rupa paras yang menarik dalam tiga keutamaan tertinggi mereka, angka ini hanyalah 30% untuk wanita.
Persaingan antara rupa paras dan personaliti adalah dilema klasik janji temu, dan penyelidikan menunjukkan bahawa rakyat Singapura sangat berpihak kepada personaliti. 85% wanita di Singapura menempatkan personaliti sebagai lebih penting daripada rupa paras yang menarik, sedangkan 72% lelaki mengatakan hal yang sama.
Keputusan antarabangsa
Keutamaan untuk personaliti berbanding rupa paras adalah sama di seluruh dunia. Keputusan keseluruhan di setiap negara yang dikaji menunjukkan bahawa orang lebih cenderung untuk menempatkan personaliti sebagai lebih penting berbanding rupa paras yang menarik. Satu-satunya penyimpangan dari trend ini adalah di kalangan lelaki Vietnam di mana hanya 46% menempatkan personaliti di kedudukan lebih tinggi berbanding rupa paras yang menarik (berbanding 64% wanita Vietnam).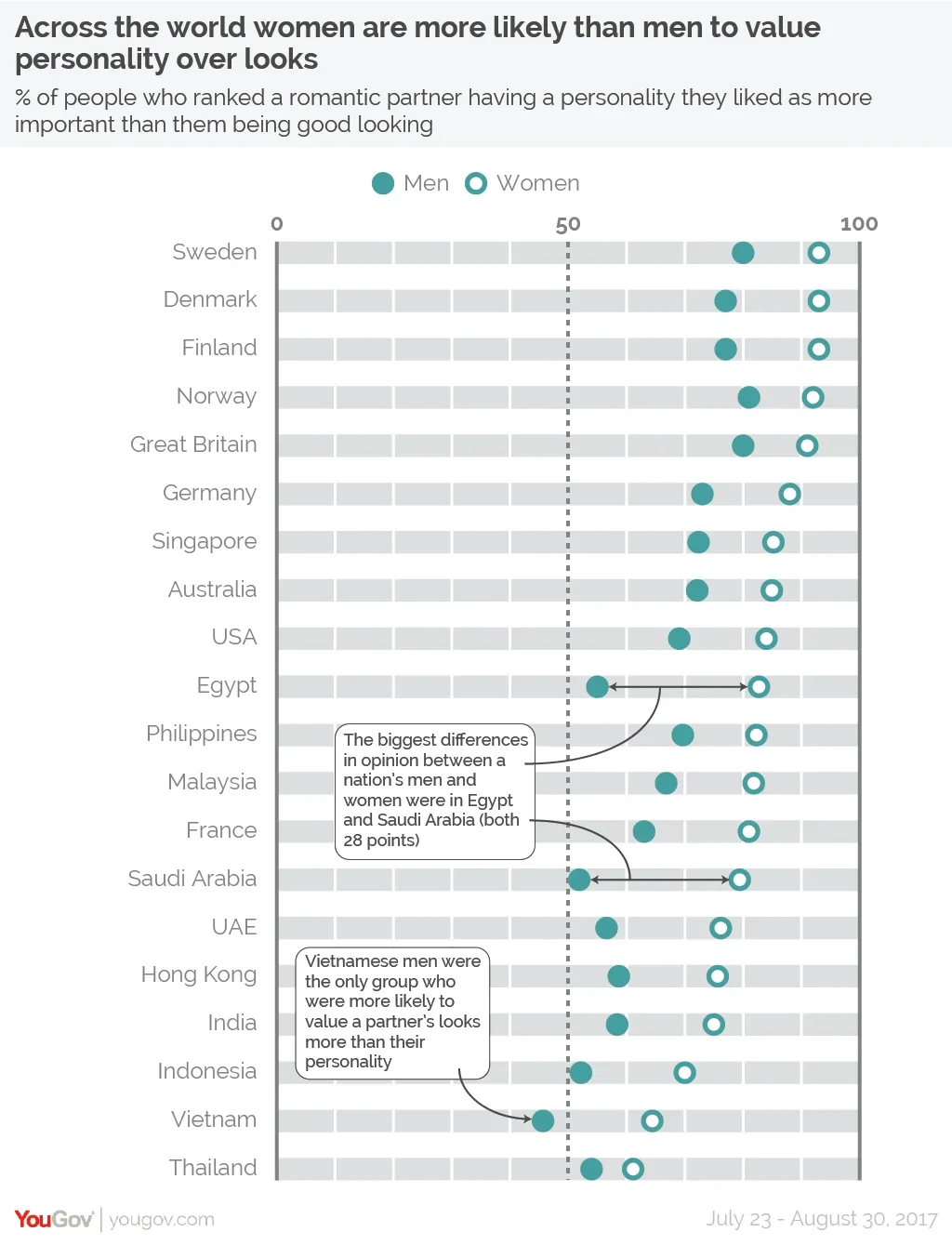 Dalam setiap 20 negara yang dikaji, wanita lebih memilih personaliti berbanding lelaki. Perbezaan ini paling jelas di Arab Saudi (di mana 79% wanita menempatkan personaliti lebih tinggi daripada rupa paras, berbanding 52% lelaki, perbezaan sebanyak 28 mata) dan Mesir (83% wanita berbanding 55% lelaki, juga dengan perbezaan 28 mata).
Wanita di negara-negara Nordic menempatkan keutamaan pada personaliti pasangan - ia menduduki tempat sebagai satu-satunya ciri penting oleh 73% wanita Sweden, 69% wanita Denmark, 66% wanita Norway dan 59% wanita Finland.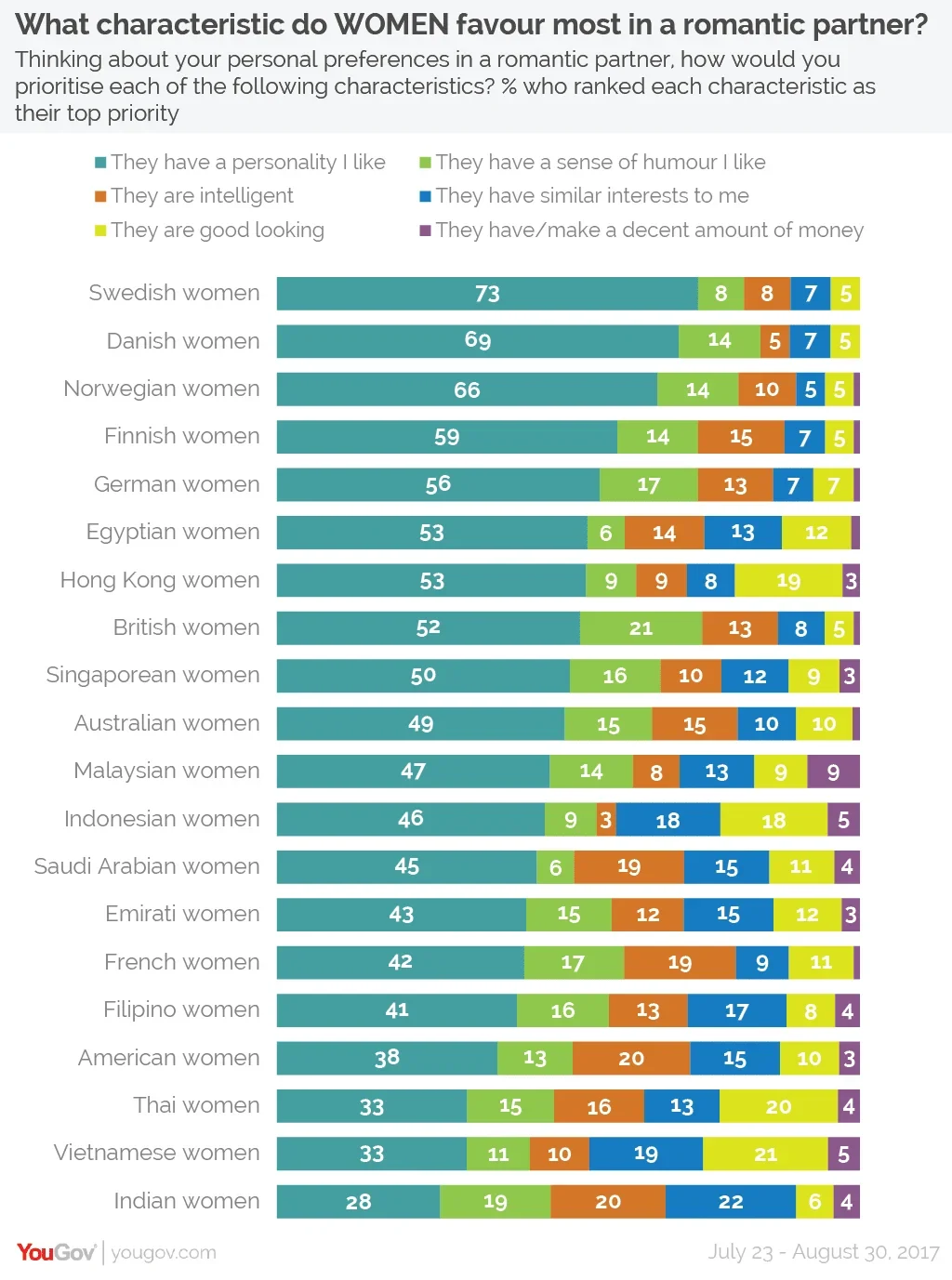 Click here to see the chart for men or women
Sebaliknya, orang-orang yang paling asyik dengan paras rupa adalah lelaki Vietnam (44% menempatkan paras rupa sebagai satu-satunya ciri paling penting yang perlu ada pada pasangan), lelaki Indonesia (35%), lelaki Arab Saudi (juga 35%), lelaki Thai (33%) dan lelaki Hong Kong (juga 33%).
Nota cinta
Kajian ini mendapati bahawa negara-negara di mana pasangan yang mempunyai kewangan yang baik adalah atribut yang paling bernilai ialah Malaysia (di mana 36% wanita menempatkannya sebagai keutamaan tiga teratas), Vietnam (32%) dan Indonesia (30%).
Walau bagaimanapun, perlu diingatkan bahawa semua negara (dan, sememangnya, semua negara yang dikaji) wanita masih lagi lebih cenderung untuk menilai personaliti pasangan, rasa humor dan kepintaran sebagai sifat yang lebih penting daripada kekayaan.
Sumber imej: Getty Image