The Obamas are the world's most admired man and woman
Barack Obama has deposed Bill Gates from his position as world's most admired man for the first time since YouGov first started asking in 2014.
Michelle Obama holds on to her position as world's most admired woman, having ended Angelina Jolie's run of dominance last year. Jolie herself has risen one place since last year to second, with Queen Elizabeth II also rising one rank to become the world's third most admired female.
Gates has only slipped one rank, with his fall potentially coming as a result of rumours that he is in some way involved in the spread of COVID-19. Chinese president Xi Jinping finds himself in third place once again, having previously held that position from 2015-2017.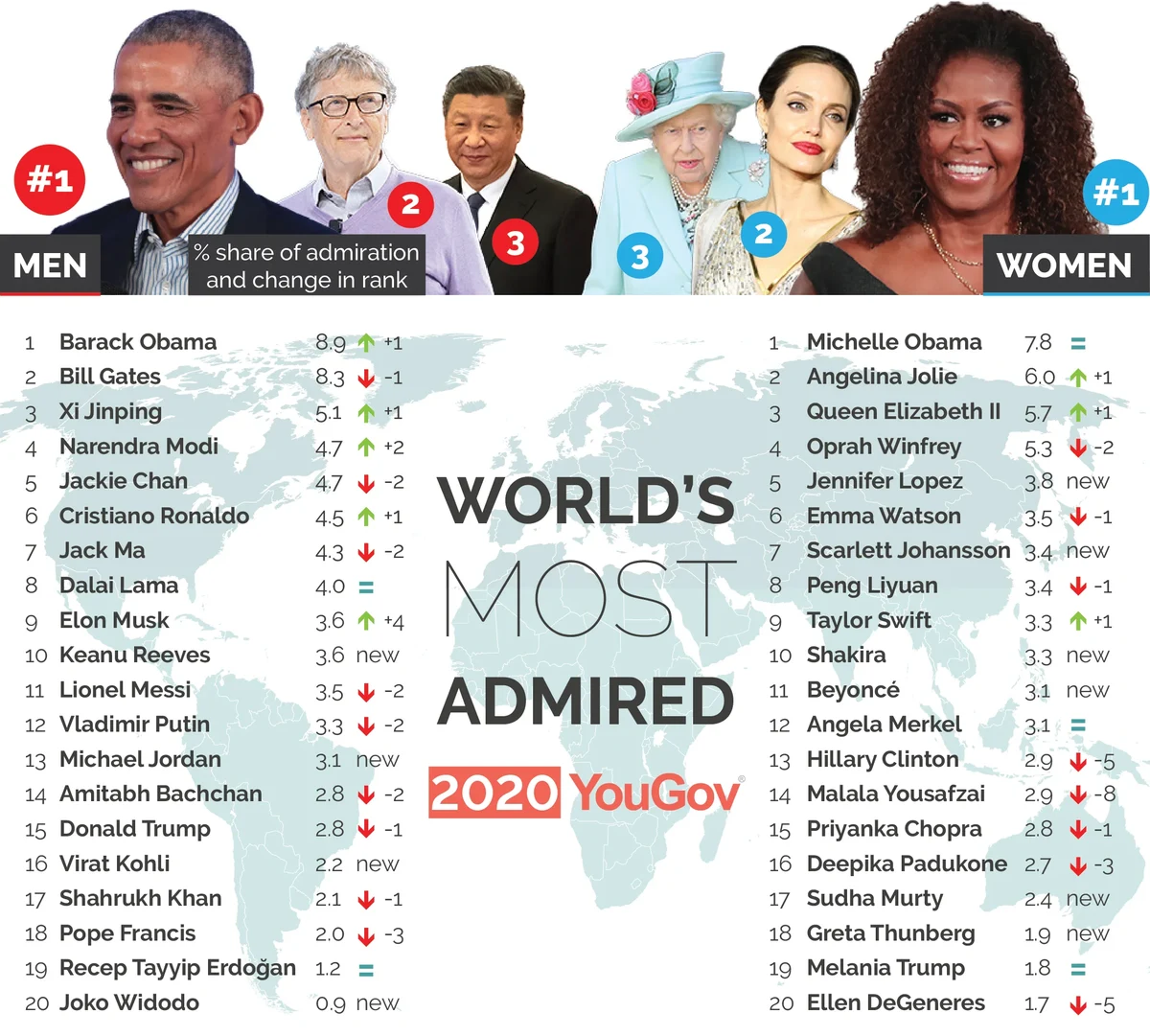 This year's study is our largest ever with more than 45,000 people in 42 countries and territories being interviewed to compile the list.
Tesla and SpaceX CEO Elon Musk has seen the greatest increase since last time, climbing four places from 13th to ninth. Human rights campaigner Malala Yousafzai has fallen farthest, tumbling eight places from 6th to 14th.
Entertainers dominate the female list, with 12 of the most admired women being actresses, singers or TV presenters (although some, like Emma Watson and Angelina Jolie, are also notable for their humanitarian work). By contrast, the list of most admired men contains more people from political, business and sporting backgrounds.
The results are calculated from the combination of responses to two questions – whether a respondent admires the figure at all and then whether they are the figure the respondent admires the most. Each nation's results in the global compilation are also weighted to represent the country's population size. (Full methodology is available below)
New additions to the top twenties this year include environment campaigner Greta Thunberg, pop stars Jennifer Lopez, Beyoncé and Shakira, actors Keanu Reeves and Scarlett Johansson, sportsmen Michael Jordan and Virat Kohli, Indonesian president Joko Widodo, and Indian charity head Sudha Murty.
Barack Obama is more admired than Donald Trump in every country, except one
Barack Obama's rise in the rankings is mirrored by Donald Trump's fall, with the current US president slipping one spot to 15th place globally.
The former president tops the global list in 22 of the 42 countries and territories surveyed, including the USA. Trump performs best in the US (coming 2nd) and South Africa (3rd), but only ranks ahead of Obama in one country: Russia, where he places 11th to Obama's 15th.
Who is the GOAT, according to World's Most Admired?
The results show that football's greatest rivalry continues to be won by Cristiano Ronaldo, ranked as the world's 6th most admired man, compared to 11th for competitor Lionel Messi.
Ronaldo ranks higher than Messi in 32 of the 42 countries and territories surveyed, and has led his opponent in the last three global studies.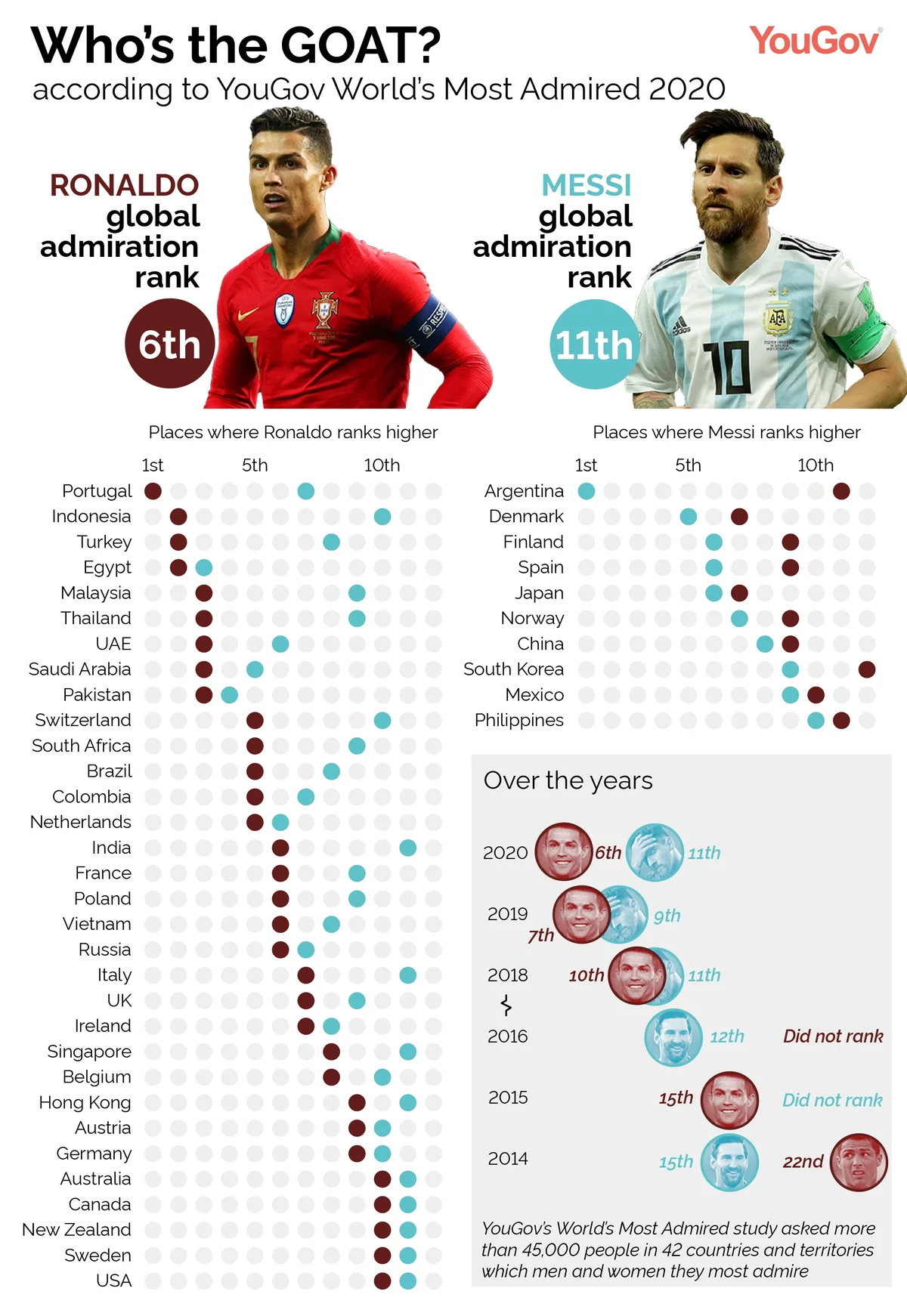 David Attenborough and the Queen remain the British public's most admired figures
David Attenborough once again tops the most admired men in Britain list, with an admiration score of 23.13%.
Likewise, Queen Elizabeth II remains aloft the list of most admired women in Britain, with an admiration score of 23.29%.
Theresa May, who was Prime Minister when last year's study was conducted, has tumbled from 7th place to 16th in the women's rankings.
Prince Harry, last year's male fourth place, didn't even make the cut at all this year, following the controversy caused by his stepping down and moving to America. Yet his wife Meghan has had the opposite trajectory, coming from not being ranked last year to 13th on the female list this year.
Both are outperformed by Prince William (3rd) and wife Catherine (5th), however.
Methodology
From January to March this year YouGov gathered open-ended nominations from panellists across 42 countries and territories, asking them simply: "Thinking about people alive in the world today, which [man or woman] do you most admire?" These nominations were then used to compile a list of the 20 men and 20 women who received the most nominations and were nominated in at least four countries. An additional 5-10 popular local figures were added to the lists for individual countries.
Because the first wave of fieldwork was carried out before the peak of the coronavirus pandemic, some figures associated with leading national efforts to counter the disease did not make it on to the national admiration lists. This is unlikely to affect the global results, as such figures are generally only well-known in their own country and a candidate needs to be nominated in at least four countries to stand a chance of making the global top twenty (which it is less likely still they would have reached).
In fieldwork conducted from May to September we used these lists to poll each of the 42 areas asking two questions: "who do you truly admire?", where respondents could make multiple selections, and "who do you MOST admire?", where they could only pick one. These two numbers were combined into a percentage share of admiration, displayed to the right of each name in the graphic above and table below, which shows the full results for every country including local celebrities and public figures:
By asking respondents two questions, we can understand both the breadth (i.e. global reach) and the intensity of a person's support.
Altogether, we polled in countries that constitute more than seven-tenths of the world's population. However, some parts of the world were better represented than others, so we weighted up the impact certain countries had on the final scores and weighted down others so the global scores more accurately reflect the breakdown of sentiment in the world overall.
All of the surveys were conducted online, and in many of the countries the internet penetration is low to the point where the sample can only be said to be representative to the online population. The countries and territories where this applies are China (including Hong Kong), Egypt, Indonesia, Malaysia, Pakistan and the Philippines.