Photo Source: Getty Image
Three in ten in APAC say they listen to the radio less than they did 12 months ago
The rise of online streaming services has revolutionized the media industry. Consumers can now choose from a range of different providers, each of which provides the key to unlocking thousands of TV shows, films and/or music. The success of such companies has surprised many in the scope of both their popularity and their profits. Netflix, a pioneer of the TV and film streaming industry, has over 110 million subscribers across the world. Online music streaming service Spotify is now worth more than the entire US music industry, with an estimated value of $8.4 billion.
42% of consumers say they listen to music using online streaming services more than they did a year ago
New research from YouGov Omnibus shows just how rapidly media trends are shifting in the Asia-Pacific (APAC). In the past 12 months alone, 42% of consumers say they have increased the frequency with which they listen to music using online streaming services. The rises to 48% among millennials. Just 16% of millennials say they listen to music using online streaming services less often than they used to. The net increase (+32) shows the growth of online music streaming services among millennials in the past year alone.
It isn't just young people that are changing how they listen to music. Among older generations, there has been a net increase of +12 of those who now listen to music using online streaming services over the past twelve months.
Other means of listening to music have suffered as a result. Those listening to music on the radio have a net decrease of -3 among millennials and -1 among older generations. However, CDs have seen the biggest fall in popularity; the frequency with which consumers listen to them has decreased by a net score of -27 among millennials and -31 among older generations.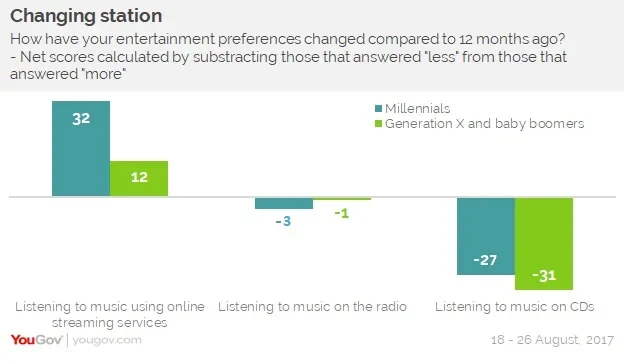 Across APAC, 36% of online consumers are currently subscribing to a music streaming service, while another 21% have subscribed previously but stopped now.
Majority of APAC respondents are willing to pay a higher price for better sound quality
Even though fewer people listen to music on CDs nowadays, music consumers in APAC also value sound quality. When asked if their current digital music providers offer higher sound quality with a slightly higher subscription fee, over 60% of APAC respondents are still willing to pay for the premium.
Among the 9 APAC countries polled, Vietnamese are the most willing to pay more for better sound quality (with 83% say they would pay more), while respondents from Singapore, China and Australia are least likely to pay more (with 51%, 48% and 46% say they would not pay more).
Safety is a concern when attending music concerts
Besides listening music via online streaming services, radio or CDs, one popular way to enjoy music is attending live concerts. But after the recent accidents and tragedies at music concerts, are people feeling hesitate about attending the same type of events? 54% of APAC respondents admit that it does impact their consideration for attending these types of events. Only 31% say there's no impact on their consideration for attending music concerts, while 16% of respondents are not even aware of the accidents.
Across APAC, respondents from Indonesia, Thailand and the Philippines are the most concerned on safety about attending music concerts (with 28%, 24% and 24% say this impacts much on their consideration). On the other hand, respondents in Singapore, Australia and Hong Kong have shown the least concern on the same (with 44%, 43% and 40% say there's no impact on their consideration).
*Data was collected online in Q3 2017 using YouGov's panel of over 5 million people worldwide. It was weighted to be representative of the online population. Sample size: Australia: 1,089; China: 1,049: Hong Kong: 1,039; Indonesia: 1,051; Malaysia: 1,267; Philippines: 1,086; Singapore: 1,036; Thailand: 1,036; Vietnam: 1,062)
YouGov has put together an infographic, summarizing the research findings. See below or click here to download a copy.