E-commerce and hygiene brands show biggest improvement in 2020
Singapore Airlines has topped YouGov Best Brands list for the third year in a row, on YouGov's annual ranking of the healthiest brands in the nation. The rankings are based on the Index score from YouGov BrandIndex, which constantly measures overall brand health. The score takes into account consumers' perception of a brand's overall quality, value, impression, reputation, satisfaction and whether consumers would recommend the brand to others.
In spite of COVID travel restrictions, the national carrier remains Singapore's healthiest brand with a score of +60.5. The top three remains unchanged from the year prior, with instant messaging platform WhatsApp in second (+56.1) and Changi Airport in third (+55.0) – another notable brand in this year's list, considering the pandemic's impact on travel.
Other Singaporeans brands in the top ten are supermarket chain FairPrice in fourth (+50.7), which appears in the list for the first time. News channel Channel News Asia comes in seventh (+42.7) and popular tourist destination Gardens by the Bay is in ninth (+39.9).
Digital brands also do well in this year's list, with video-sharing platform YouTube in sixth (+48.1), and social media giant Facebook in eighth (+40.0). The list is completed with Japanese clothing retailer Uniqlo in fifth (+48.7), and disinfectant brand Dettol in tenth (+39.8).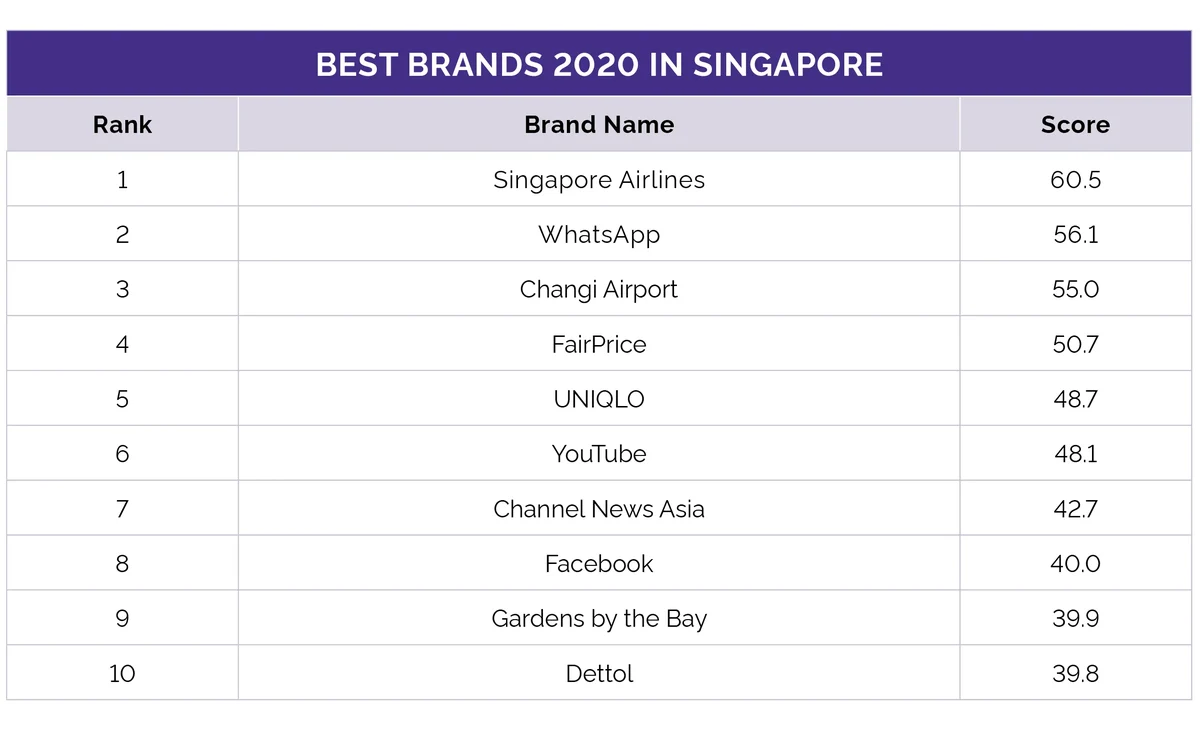 YouGov BrandIndex also reveals the brands that have noted the greatest improvement to their Index score over the past 12 months in Singapore. E-commerce platform Shopee is this year's most improved brand, with a +14.1 change in score. Dettol comes in close second (up +10.0) unsurprisingly, which is the brand that has seen the highest uptick in Current Customer score since the COVID outbreak. Dettol is closely followed by competing soap brand Lifebuoy which comes in fourth (up +6.3 points).
The brands in the improvers list largely reflects this year's top ten. Channel News Asia in third (up +7.3), McDonald's in fifth (up +6.0), Changi Airport in sixth (up +5.9) and Facebook in seventh (up +5.8).
The rest of the improvers list is completed with soap brand Lifebuoy in fourth (up +6.3), e-hailing platform Grab in seventh (up +5.3), tourist destination Singapore Zoo (up +4.7) and news portal The Straits Times in tenth (up +4.6).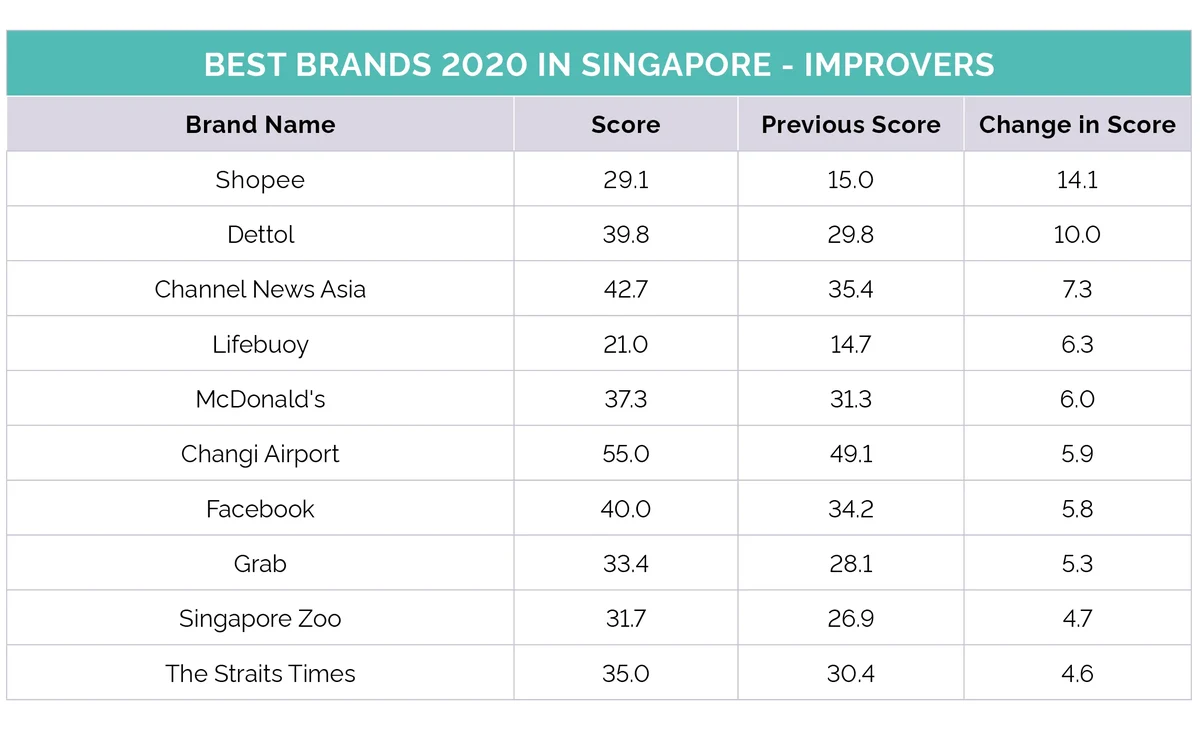 Ervin Ha, YouGov APAC Head of Data Products commented: "YouGov's 2020 Best Brand Rankings sees Singapore Airlines in first place for the third year running, despite the global coronavirus pandemic resulting in travel bans and restrictions. Like many airlines, the national carrier has undoubtedly faced financial hardships, but the rankings show the power of a strong brand. While others may have struggled with the changing fortunes of 2020, one brand which has benefitted from consumers forced to stay at home is Shopee, indicating a shift for shopping from brick and mortar stores to online. Shopee is not only Singapore's most improved brand this year, it is also the eighth healthiest brand in the world."
Global Rankings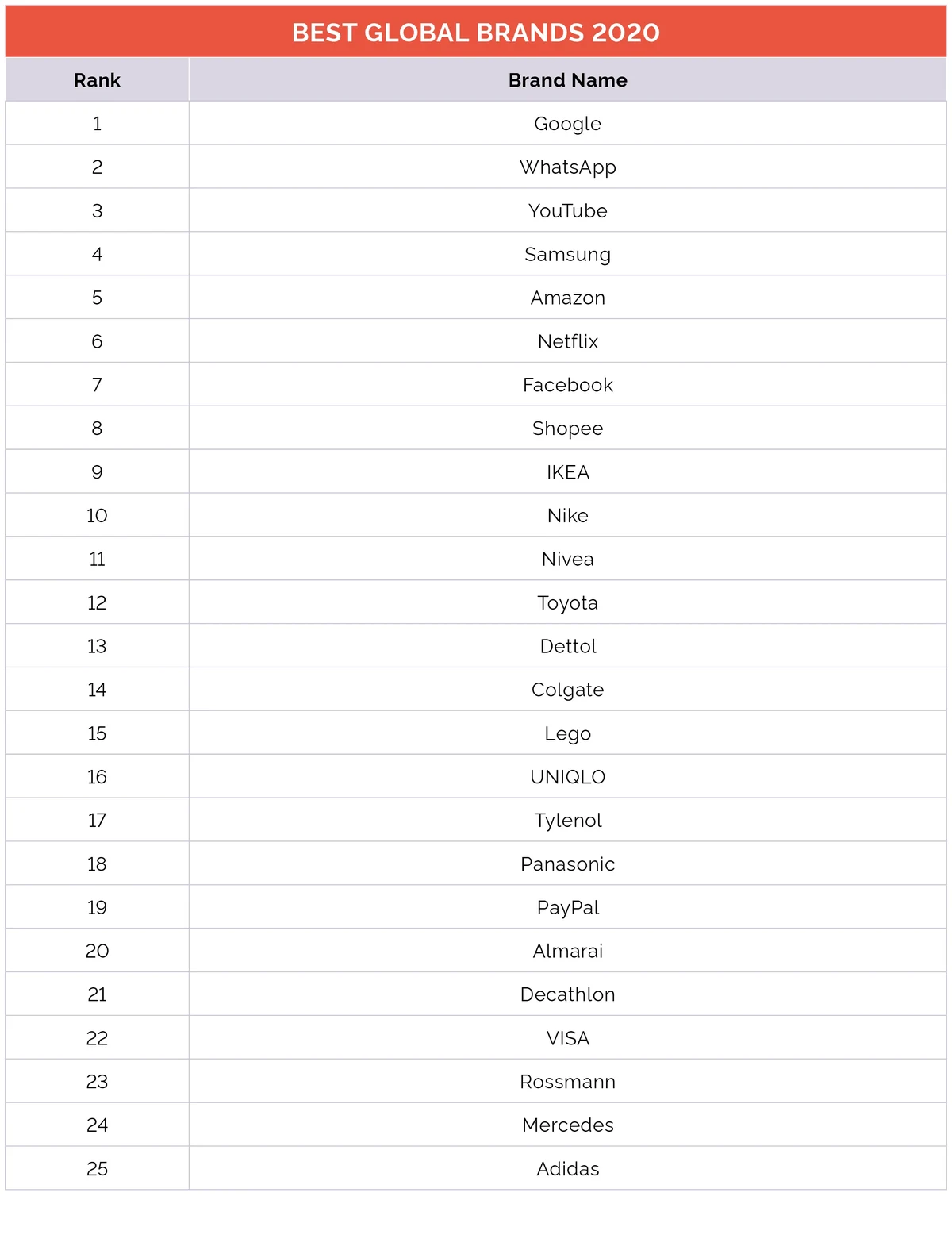 Google takes the top spot in YouGov's annual global best brands ranking. Tech brands dominate the top of the list with the search and advertising giant followed by WhatsApp, YouTube, Samsung and Amazon.
With Netflix and Facebook in sixth and seventh respectively, the only non-tech-related brands in the top ten are Singaporean ecommerce platform Shopee (eighth), Swedish retailer IKEA (ninth) and US sportswear titan Nike (tenth).
Methodology
The rankings are drawn from interviews conducted between October 2019 and September 2020. Each day consumers are asked their view on 453 brands in Singapore, which allows YouGov to build a picture of how different brands are perceived by the general public through comparing Index scores – which is a measure of overall brand health calculated by taking the average of Impression, Quality, Value, Satisfaction, Recommend and Reputation.
Impression – whether someone has a positive or negative impression of a brand
Quality – a net measure of whether consumers think the brand represents good or poor quality
Value – a net measure of whether consumers think the brand represents good or poor value for money
Satisfaction – whether someone is a satisfied or dissatisfied customer
Recommend – whether someone would recommend a brand to a friend or not
Reputation – whether someone is proud or embarrassed to work for a brand