Carta Tahunan BrandIndex Buzz YouGov didominasi oleh jenama-jenama dari Singapura dimana syarikat penerbangan kebangsaan negara itu, Singapore Airlines mendahului carta selama empat tahun berturut-turut.
BrandIndex Buzz YouGov membuat kaji selidik dengan mengambil kira persepsi secara harian masyarakat umum dari pelbagai aspek. Carta tahunan ini adalah himpunan 'Buzz scores' selama 52 minggu untuk tahun 2018. 'Buzz scores' ini dikira berdasarkan persepsi umum dan populariti sesebuah jenama, sama ada positif atau negatif.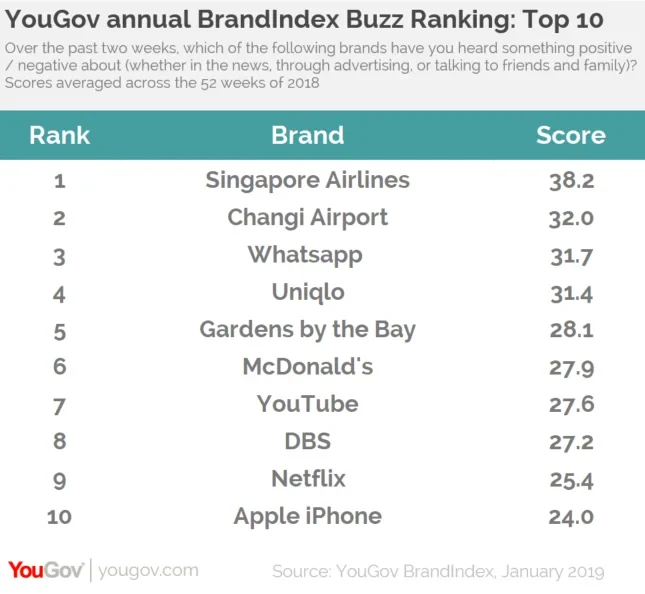 Jenama dari Singapura mempunyai reputasi baik dan sering mendominasi 10 tangga teratas. Lapangan Terbang Changi menduduki tempat kedua (32.0), Gardens by the Bay di tempat kelima (28.1) dan institusi perbankan DBS di tempat kelapan (27.2).
Jenama digital juga termasuk di dalam carta tersebut. Platform komunikasi sosial Whatsapp menduduki tempat ketiga (31.7), laman perkongsian video YouTube di tangga ketujuh (27.6), khidmat portal langganan video Netflix di tempat kesembilan (25.4), dan Apple iPhone di tempat kesepuluh (24.0).
Jenama fesyen terkemuka dari Jepun, Uniqlo melengkapkan carta 10 teratas di tempat keempat (31.4) manakala khidmat penyedia makanan segera Mcdonald's di tempat keenam (27.9)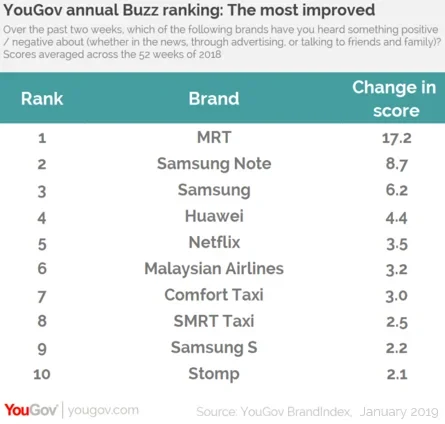 YouGov juga mendedahkan jenama yang mencatatkan peningkatan 'Buzz Score'. Syarikat operator pengangkutan multi modal, SMRT mencatat peningkatan skor tertinggi, (naik 17.2 mata), berada di hadapan jenama telefon pintar Samsung Note (naik 8.7 mata). Tempat ketiga pula dicatat oleh pengeluar telefon pintar dari Korea Selatan, Samsung (naik 6.2 mata).
Disamping mendedahkan jenama-jenama yang mencatatkan skor terbaik, YouGov juga membuat kaji selidik untuk jenama tempatan Singapura yang menerima maklum balas positif. Singapore Airlines, Lapangan Terbang Changi dan Gardens by the Bay menduduki tiga tempat teratas, diikuti oleh bank tempatan DBS dan POSB (21.6). Syarikat berita Pan-Asia, Channel News Asia pula menduduki tempat keenam (21.4).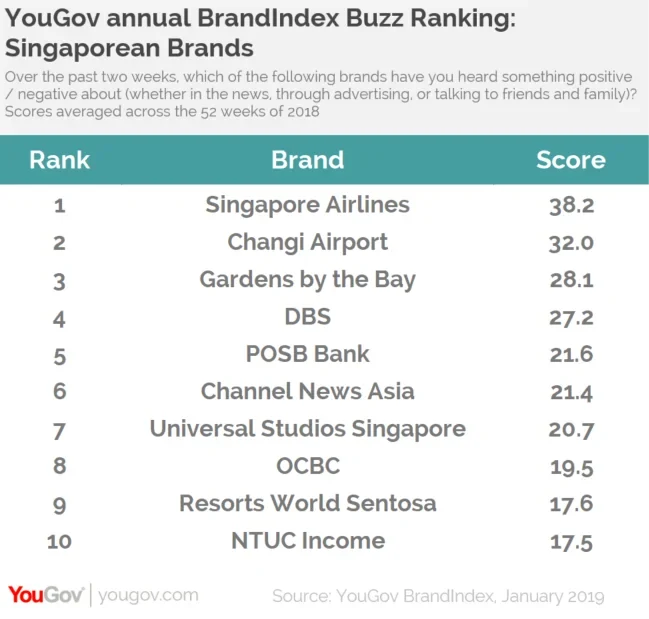 Ketua Bahagian Data Produk, Ervin Ha berkata:"Jenama Singapura mencatatkan skor yang tinggi untuk carta Buzz tahun ini. Selama empat tahun berturut-turut, Singapore Airlines adalah jenama berprestasi positif paling popular. Dari segi jenama yang mencatat peningkatan terbaik, SMRT mencatat peningkatan mata yang memberangsangkan semenjak 18 tahun yang lalu. Ini jelas menunjukkan jenama tempatan adalah popular dikalangan rakyat Singapura sendiri,"