Digital bank Revolut, targeted mostly at travellers, recognised as most improved brand of the year
Homegrown banks DBS and POSB have come up tops in YouGov's Bank and Payment Brand Rankings 2022, with DBS (41.0 points) having an impressive 6.8-point lead over second-placed POSB (34.2 points). The next Singaporean bank to make the ranking, OCBC, was ranked in fourth (26.1 points) after digital payment company VISA (26.8 points).
The rankings are based on YouGov BrandIndex's positive Consideration score, which measures the percentage of a brand's customers who would consider it when next in the market to use a Financial Institutions & Services brand. The rankings show the brands with the highest average Consideration score between 1 October 2021 – 30 September 2022 compared with the same period in the previous year.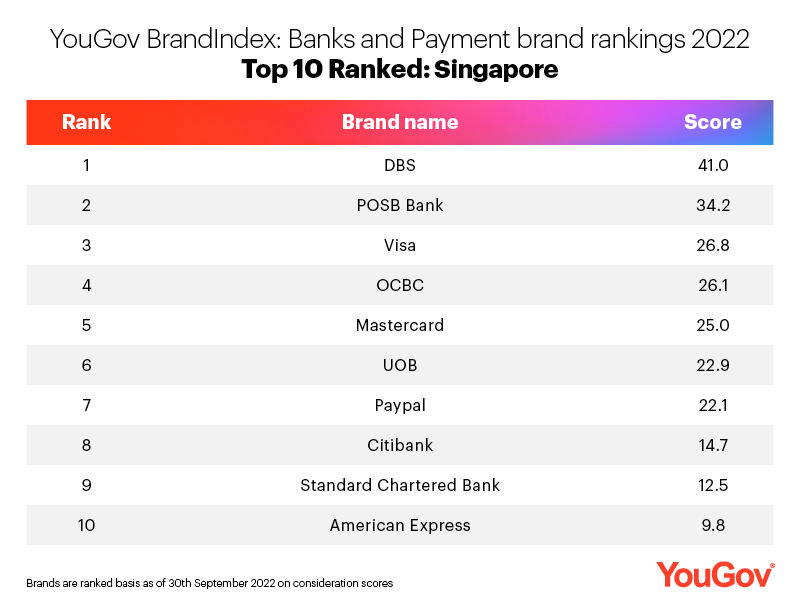 The second payment technology company to make the ranking was Mastercard in fifth place, with a Consideration score of 25.0 points. Next came commercial bank UOB (22.9 points), followed closely by Paypal (22.1 points).
American-headquartered Citibank was next on the rankings with 14.7 points, while Standard Chartered Bank (12.5 points) and American Express (9.8 points) rounded off the top ten.
Alongside the overall rankings, YouGov also released the ten "most improved" brands of the past year for the financial services sector. While the overall ranking was dominated largely by traditional banks, digital banks and payment companies made considerable strides to take three of the four spots on the Improvers' rankings.
The ranking was topped by digital banking app Revolut (+1.1 points), whose target audience of travellers could explain why the company saw such improvements, as international travel resumed post-pandemic. Paypal was next most improved (+1.1 points).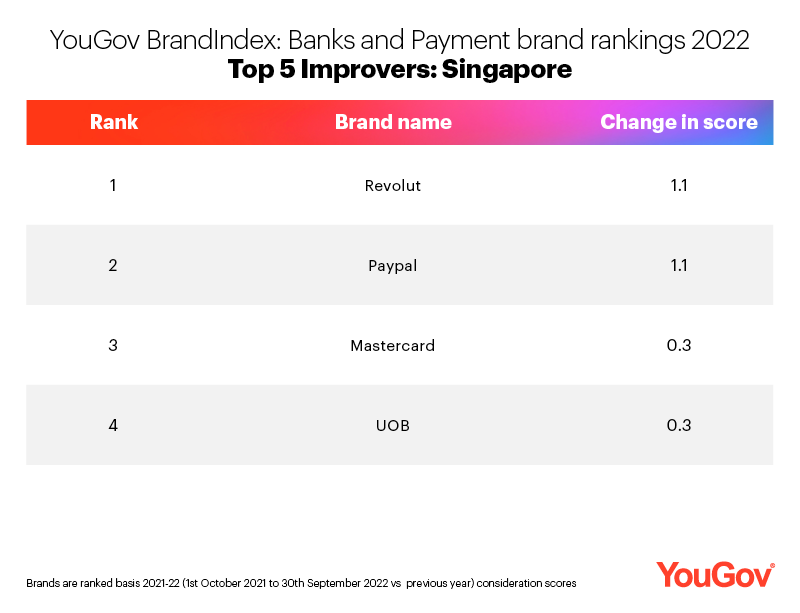 Mastercard and bank UOB rounded off the Improvers rankings, with improved scores of +0.3 points each.
Want to see how other markets compare? Download the full report here.
Methodology:
The data included in the YouGov Bank and Payment Systems Consideration Rankings report 2022 has been drawn from YouGov BrandIndex.
For the brand ranking, brands were ranked based on their 'consideration' score. In this metric people are asked, "when you are in the market next to make a purchase, which brands would you consider?". Brands were ranked by this consideration score between October 1, 2021, and September 30, 2022. To determine the biggest improvers, brands were sorted by change in score between that time and the previous twelve months.
All scores listed above have been rounded to a single decimal place; however, we have used additional precision to assign ranks. All brands must have been tracked for at least six months to be included in either ranking.