Two in five believe that all Chinese travellers in Singapore be quarantined
With the Wuhan coronavirus spreading across the globe, and a confirmation of seven people[1] being infected in Singapore, latest YouGov research looks into sentiments about the outbreak.
Almost all (94%) Singaporeans have heard about the Wuhan coronavirus, and three in five (59%) have expressed fears over contracting it. Women are more likely to fear being infected than men (66% vs. 52%). Though the Wuhan coronavirus appears to be susceptible towards the elderly[2], fear of contracting it decreases as age increases. Two in ten (19%) are 'very scared', two in five (40%) are 'fairly scared'. A quarter (25%) are 'not very scared' and only 7% are 'not all scared' about contracting the virus. The remaining 8% are undecided.
Athough there are no confirmed cases of Singaporean citizens contracting the virus, almost half (47%) of Singaporeans believe that its citizens have been contaminated.
Overall, three in five (58%) of Singaporeans think that the government are doing about the right amount to contain the virus. However, over a third (35%) thinks they are not doing enough. A small percentage (3%) believe they are doing too much, and the remaining 4% are undecided.
Looking at governmental measures that could be taken, the majority (84%) agree that all incoming flights from Wuhan be stopped. Two in five (43%) believe that all Chinese travellers in Singapore should be quarantined. With face masks in shortage[3], over half (56%) think that the government should provide free masks for the whole nation. One in twenty (5%) believe that a more drastic measure be taken, by putting Singapore in quarantine.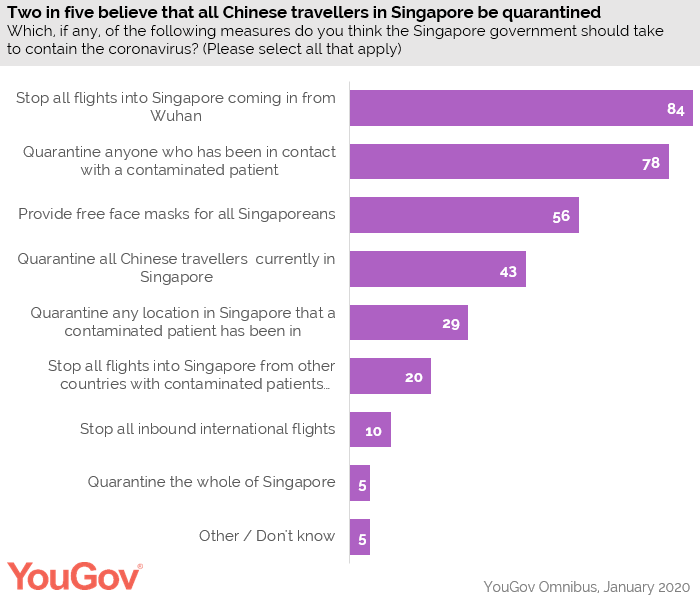 Singaporeans are not just leaving it up to the government to help contain the virus, and have taken measures of their own. Eight in ten (81%) have improved their personal hygiene (e.g. washing their hands more frequently). Seven in ten (73%) are avoiding going to crowded spaces, six in ten (63%) are avoiding consuming raw meat and half (48%) are avoiding travelling outside of Singapore. Over a third (37%) of Singaporeans are wearing a face mask in public, and one in twenty (5%) are avoiding going to work or school.
Jake Gammon, Head of Omnibus APAC at YouGov Omnibus commented: "As the Wuhan coronavirus dominates the media and people's conversations, we were keen to find out exactly how Singaporeans are coping with the outbreak. It is clear that fears of the virus are shared across age groups, and a significant amount believe that more governmental measures can be taken. Even seemingly drastic measures, like quarantining the entire nation are favoured by quite a few."
***Results based on 1,013 Singaporeans surveyed by YouGov Omnibus