With National Day just round the corner, Singapore is gearing up for this year's Parade. What better way to celebrate the nation's heritage than with food? To whet Singaporeans' appetite, McDonald's launched their latest limited edition menu on 13 July to honour some of Singapore's most celebrated cuisine. The new additions combine some of the country's favourite flavours and include the Nasi Lemak burger, Chendol McFlurry, Bandung McFizz and Pandan Coco Frappe.
The menu has proved an instant hit, with items selling out less than two weeks after its launch. But its popularity is not universal. According to the latest YouGov BrandIndex data, younger generations are more likely to be excited by McDonald's latest offering than older generations.
Looking at Buzz scores across July, Ervin Ha, Head of Data Products, Asia Pacific, says "McDonald's has done well for itself with this product launch, with the biggest increased was in those aged 16-29, which nearly doubled over a matter of weeks - from 25 at the beginning of the month to 47 at the end of the month. There was a similar surge among those aged 30-44, which rose from 23 to 44. However, the increase among those aged 45 and over was more muted, going from 24 to 32, suggesting that the hype hasn't really tapped into the so-called grey dollar. McDonald's Singapore has been very innovative in developing products which do well in Singapore and we hope to see great ideas like this that leverage our cultural food heritage in the future."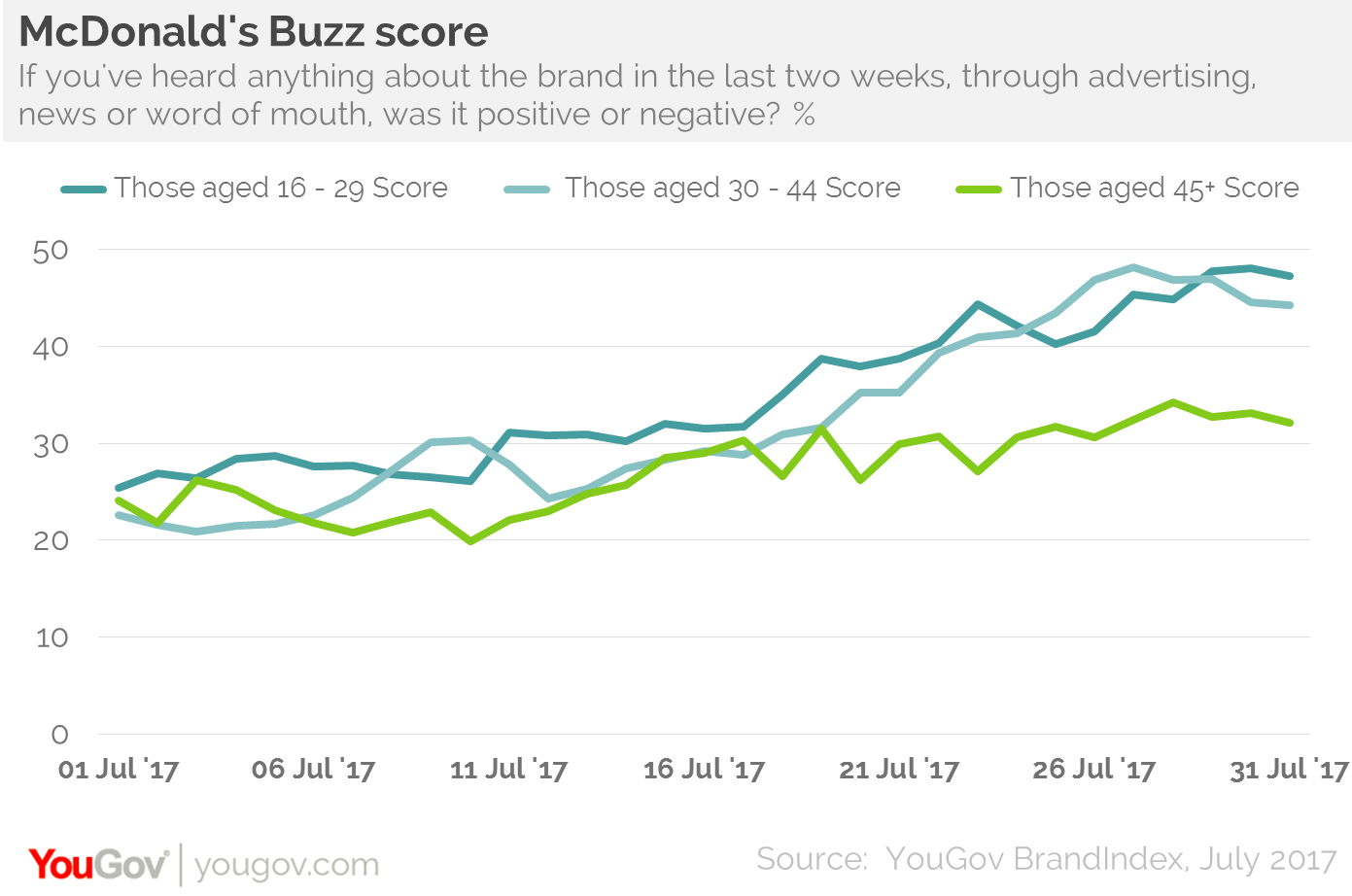 The age group divide is also mirrored in the change in the scores for McDonald's current customers. Just days after the menu's launch (between 14 July and 17 July) custom from 16-29 year olds shot up from 62 to 70, though it has since fallen slightly. Across the month, customers among 16-29 year olds and 30-44 year olds has shown a modest increase, from 68 to 69 and 65 to 73 respectively. However, customers from those aged 45+ has seen a marked decreased, from 69 to 52. Such an age group gulf is certainly food for thought for brands looking to capitalise on the 9 August festivities.
Sunil Devmurari, Regional Director Asia Pacific, comments, "Over just a few short weeks we can see the fruits of McDonald's latest marketing campaign in Singapore. McDonald's continues to be one of the Singapore's best loved fast food chains, consistently topping many of the BrandIndex rankings, which track 28 QSR and casual dining outlets in Singapore. The next few weeks will demonstrate whether McDonald's can sustain the Buzz generated from their limited edition menu even after many of its items have sold out. Such a continuous daily stream of data becomes a very powerful tool for marketers especially when large national campaigns like this are in play."