---
YouGov Direct is a self-service platform built for advertisers, media agencies, and publishers to precisely target the audience you need in the moment you need it and deliver your research with exceptional speed.
Getting started with YouGov Direct is as easy as 1, 2, 3:
Set up an account in 5 minutes or less
Target, publish, & launch your survey in 10 minutes
Watch real time results roll in - complete results in as fast as 1 hour!
Try YouGov Direct now!
Create an Account | Schedule a Demo
 
Redefining how audiences for advertising are built, used and valued.
YouGov Direct is a fully-opted in, completely transparent and fraud-free audience platform.
With granular and accurate profiling data we enable precise consumer targeting and turn advertising into a two way dialogue.
We're building YouGov Direct to revolutionise the advertising industry.
Precision Targeting

The YouGov Direct Panel is supported by precise audience profiling and giving you access to audiences that are receptive to your communications and offers.

 

Self Service & Speed

Sign up is a quick and easy process and with credit card payments available, you can get your first survey up and running in less than 10 minutes with results delivered fast.

 

Multi-Market Reach

Large panels are currently available in the US, the UK, Canada, Australia and Singapore, with more markets available in the coming months.
Built for Advertising in the GDPR & post-CCPA World
YouGov Direct enables accurate and ethical consumer targeting. YouGov Direct panelists decide how much of their personal data they wish to share with advertisers. A double opt-in process gives your business extra peace of mind when conducting research - the YouGov Direct Panel is ready and receptive to your relevant advertising, offers, and surveys. Consumers are compensated for their opinions when they complete advertiser surveys.
Blockchain Technology
Blockchain technology underpins YouGov Direct creating an audit trail of verifiable transactions between advertisers and consumers. We used blockchain technology to support YouGov Direct because it helps to tackle many of the challenges we see in the audience data market. It turns permission (or consent) into a verifiable audit trail of transactions that can be referenced by businesses. This audit trail provides CCPA and GDPR assurance for businesses and creates complete transparency of data use between consumers and advertisers.
YouGov Direct Can Help You:
| | |
| --- | --- |
| Test ad creative and messaging | Gain live, in-event feedback |
| Assess campaign performance | Create real time direct-to-consumer surveys |
A new type of ad test that measures business outcomes
Breaking the traditional boundaries between research and marketing we can now link your ad to actual business outcomes. You select your audience, tell us what insight you want to generate or future audiences you want to speak to, and we will deliver the creative, the data and drive traffic to your desired digital property - its marketing with research added on.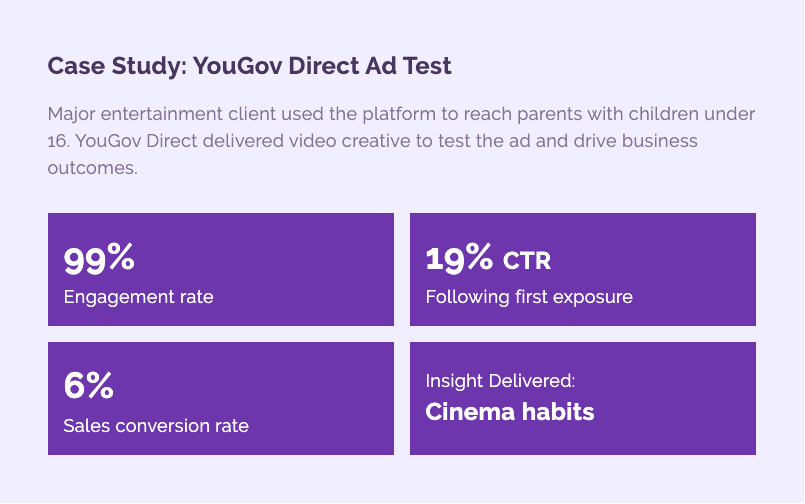 CRM Enrichment
Consumers sell their data to you, allowing you to import it into your CRM systems to better serve and communicate with them. Furthermore, data can be used to model behaviour and attitudes across your wider CRM base.